9 Story acquires global rights to Garfield
The Toronto-based company will remaster the classic animated series for HD formats.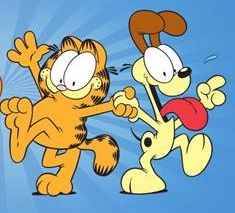 9 Story has acquired the global rights to classic animated series Garfield and Friends (121 x 30 minutes).
Having picked up the exclusive rights for all languages and platforms, the kids and family producer/distributor intends to remaster the episodes for HD formats. In addition to the 121 episodes, 9 Story also acquired twelve specials and two direct-to-video releases.
The original Garfield episodes, which were produced by Mendelson/Paws Productions between 1988 and 1995, have since been syndicated in 80 countries and translated into more than 40 languages. The animated series, about a mischievous orange cat, is based on the comic book created by Jim Davis.
"This is the first time we've awarded the rights to a single distribution partner who will handle all markets and all platforms.  We're very excited to see how the library performs, particularly given the opportunities in digital," Davis said in a statement announcing the acquisition.
The Garfield brand has 400 licensees across 5,000 products globally, according to a release from 9 Story Media.