The Calgary Film Centre officially opens its doors
The long-awaited production facility was financed via the City, Alberta government and William F. White International.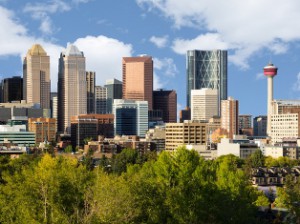 After years of calls for a new studio and permanent sound stage, the Calgary Film Centre will officially open its doors today.
The $28.2 million facility is home to three sound stages, totalling 50,000 square feet, an additional 20,000 square feet of warehouse space and 15,000 square feet of multipurpose office, workshop and production space.
Luke Azevedo, Calgary's commissioner of Film, Television and Creative Industries, said the CFC is the missing puzzle piece that Calgary has long-needed to attract productions to the region.
When marketing Calgary as a filming destination, he said, questions about Calgary's studio infrastructure naturally arise. "Up until this point, our comment was that we were retrofitting or finding capacity within warehouses and other locations to create an environment for people to work in," he told Playback Daily. "With the three stages being complete…we have the capacity to function with purpose-built facilities, which really helps legitimize the location."
"There really haven't been purpose-built stages here to deal with the weather issues in the cold season," added Comweb and William F. White International CEO Paul Bronfman. "So [the CFC] will certainly extend the shooting season here in Calgary."
The centre received $10 million in funding from the City of Calgary, $5 million from the Government of Alberta and an additional $1 million from William F. White International, which moved into the CFC in November as its anchor tenant.
From a business perspective, Bronfman said the investment in the centre was an easy decision for the company.
"For us, it was not so much a real estate play as it was an incremental revenue play. We figured that the studio would bring us about 20% more revenue per year in our Calgary location," he said.
But Bronfman stressed that the CFC was a necessary investment because it will also benefit the entire industry.
"It will bring incremental business to Calgary that hasn't been here from the United States, and most importantly, it will facilitate the great indigenous producers that are located in Calgary: Seven24, Nomadic, there's a bunch of them that are really very good at what they do," he said.
Azevdeo echoed this statement. "We're marketing to the world, but part of that mandate is also to ensure that our local community has the ability to have access to these facilities, so that we can tell our Alberta stories to the world as well."
According to Calgary Economic Development, more than $175 million in film, TV and digital production took place in the Calgary region in 2015, and, each year, 82% of the province's production spend is in the Calgary area. Last year was a particularly good year for the Alberta film and TV industries, with The Revenant and Fargo shooting in southern Alberta.
Calgary Economic Development estimates that the centre could contribute $500 million annually to Alberta economy in five to seven years.
Updated: 2:32 pm on May 19.