LaLonde hits 'go' on his next film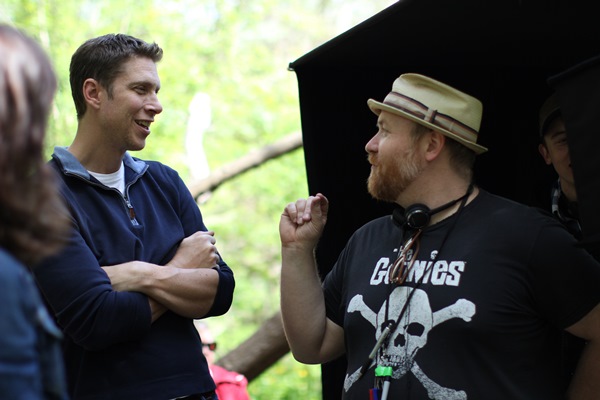 The Go-Getters, the latest comedy from the How to Plan an Orgy in a Small Town director, is currently shooting in Toronto. (Producer Jordan Walker and LaLonde pictured.)
Production on director Jeremy Lalonde's latest feature The Go-Getters is underway and while the film's title might not be as risque as his previous directorial effort, How to Plan an Orgy in a Small Town, producer Jordan Walker promises the comedy is "guaranteed to offend some people."
The feature, which will shoot in Toronto until June 7, was written by Aaron Abrams (Young People F*cking) and Brendan Gall (Blindspot).
"It's the funniest, edgiest, dirtiest comedy script I've ever read," said Walker, who also produced How to Plan an Orgy, in an interview with Playback Daily.
The film follows Owen and Lacie, two addicts who want to escape the big city in favour of Lacie's grandma's small-town home. They just have to scam and steal enough bus fare to get there.
For Walker, Go-Getters fits with his company's mandate to produce films that push the envelope.
"I'm tired of features getting their butts kicked by television. I want to make something that you simply cannot make on TV. I want to push the envelope further than these great TV shows are going," he said.
He adds that "there's no business plan" in making a film that seven out of 10 people think is pretty good. He'd rather those seven people hate his film, so long as the remaining three love it.
"They become your supporters and they buy your T-shirts. They give us crowdfunding money," he said. "They really become your core audience. And that's enough. When you're not making a $150 million comic book movie, you've got to aim for a smaller, niche audience and give them something that they won't get anywhere else."
Walker said he avoided traditional funding bodies for Go-Getters and instead turned to crowdfunding to make the low-budget indie. The film surpassed its $50,000 goal and raised just over $53,000 U.S. on Indiegogo, with the remainder of the budget coming from private investors.
The film stars Abrams and Tommie-Amber Pirie (Pretend We're Kissing) as Owen and Lacie. Adding to the cast are Kristian Bruun (Orphan Black), James Cade (Blue Mountain State), Christine Horn (Hyena Road), Scott Thompson (Kids in the Hall), Ennis Esmer (Red Oaks), Tony Nappo (Born To Be Blue), Amy Jo Johnson (Flashpoint), Suresh John (Mr. D), Kate Hewlett (The Girlfriend Experience) and Jonas Chernick (Borealis).
Walker ultimately hopes the film will premiere at Sundance or SXSW next year, and added that he doesn't believe it will be ready for TIFF.
The Go-Getters is produced by Walker, with Abrams, Gall and Ryan Goldhar executive producing. The film will be distributed in Canada by Northern Banner.
Image L to R: Jordan Walker and Jeremy LaLonde. Courtesy of Walker Entertainment.