The Youth Media Alliance French-language award winners are…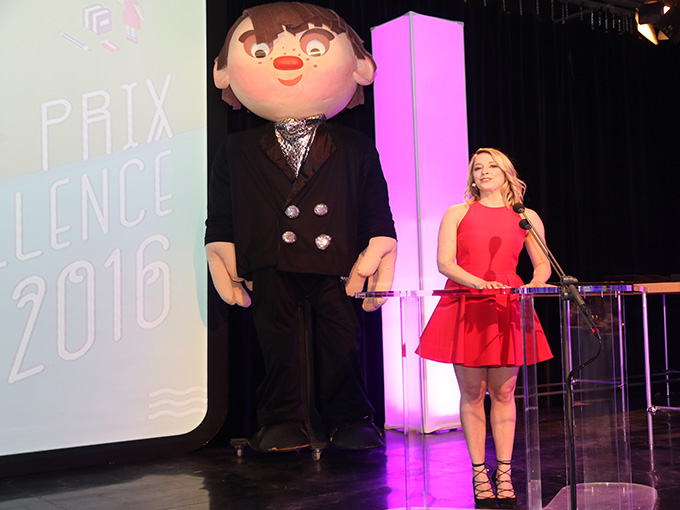 Pixcom Productions, Attraction Images Productions, Zone3 and Telefiction Productions all picked up multiple wins at the 2016 YMA French-language Awards of Excellence.
Nonprofit industry org The Youth Media Alliance (YMA) handed out its 2016 French-language Awards of Excellence during a gala event at the Maison de Radio-Canada in Montreal this week, recognizing achievement in TV programming and digital content for youth.
Among the 15 productions honored this year, Passez Go's Le Chalet took home the grand prize for best overall project, Pixcom Productions' Les Argonautes 3 (Princesse Shaolanne) won for best TV or web series focused on stimulation of imagination and creativity, and the kids' choice winner this year for best TV or web series, ages nine to 12, went to Zone3′s Vrak Attak (Vrak Attak à New York).
Other best television or web series recognized included Attraction Images Productions' 100% Animal II (Phalangers Volants) for best series centered on acquisition of knowledge and critical thinking skills, Téléfiction Productions' Toc Toc Toc (L'Ordre des Grands Enfants) for best series focused on advancement of personal growth and self-transcendence, and Océan Télévision's Le Bulletin A+ (Les Attentats de Paris) for best series based on commitment, openness and respect.
Attraction also snapped up the award for best interactive entertainment content with its first 100% Animal project, while Téléfiction won its second award with Salmigondis, which grabbed the parents' award for best interactive content, ages six to eight.
Pixcom, meanwhile, earned its second award with Code Max taking best crossmedia project, and Zone3′s second award went to Karv l'anti.gala 2015 for best TV or web series, emancipation through game and humor.
For additional digital winners, TV5 Québec Canada's La Francomobile won best interactive content, acquisition of knowledge, the Office National du Film du Canada and Minority Media's J'aime Les Patates grabbed the best interactive content award for commitment and community, while Noémie Lacerte earned the best digital personality award.
Rounding out the gala, which was hosted by TV personality Valérie Chevalier (pictured), the outstanding achievement award went to Johanne Guidotti, formerly of Télé-Québec digital, while popular vlogger, creator and author Thomas Gauthier (Le Monde Selon Thomas Gauthier) landed the emerging talent prize.