2016 Indie List: The year in review
Companies with a global, diversified approach continue to have an edge, but smaller indies are seeing success with projects attracting big stars and world-wide attention.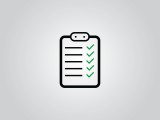 When else do you get to peek into your neighbours' windows?
Playback lets the industry indulge its inner voyeur with the annual Indie List, where Canadian producers open the kimono on where they've been spending their money. While the presence of some big players is missed (submission is voluntary), the Indie List has stayed fairly consistent in participation over the last five years, providing a valuable glimpse into how Canadian producers are faring in a period of significant, arguably unprecedented, disruption. The List encompasses the previous calendar year spend by Canadian producers (in this case, 2015) with total amounts representing the sum of production and development combined.
THE BREAKDOWN
Opportunities for Canadian producers are….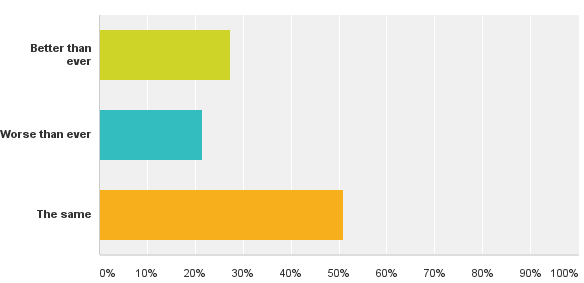 What changed year-over-year in Playback's mini-survey? You are a more confident industry. While the same amount of companies said their prospects were "better than ever" this year over last (about 30% each year), the number of companies that said prospects were "worse than ever" was down 12%, demonstrating a bit of bounce-back in confidence a year after the Let's Talk TV decisions were released.
An even stronger indication was this year's response to our question on whether or not you planned to expand your business: a whopping 76% of respondents said they planned to expand in the year ahead, compared to 61% the year prior.
Biggest opportunities for my business: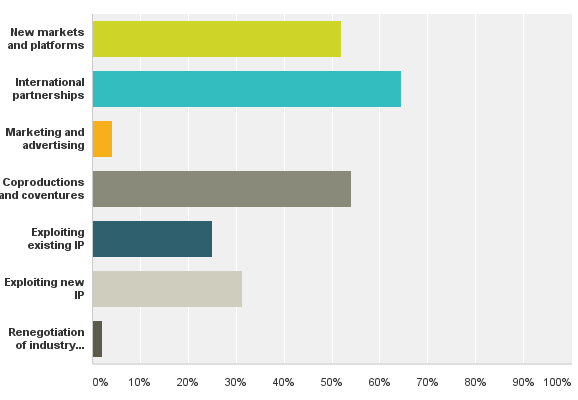 And as an industry, you are really embracing the global view. In the past, this was perhaps regarded as something for the larger production companies to look toward. But this year's survey found a significant portion of respondents (65%) said they were looking towards international partnerships (as above) as the biggest opportunity for their business in the year ahead, compared to 42% in 2014. Bolstering that, 53% of you said coproductions and coventures represented a significant opportunity for your business, up from 35% the year before. So, sharpen your networking skills, research acumen and calculators, producers, because it looks like competition for international dollars is going to continue to heat up
New and on top
The companies at the top of our list reflect this globalized, diversified approach: a trend we've been identifying on this list for several years now. Entertainment One's spend rocketed up this year, thanks in part to its majority investment in Hollywood heavyweight The Mark Gordon Company. Although that spend is currently largely in the U.S., that relationship has already benefitted one Canadian indie project: Secret Location, Touchpoint Films and Aberrant Pictures' Whatever, Linda. The web series-turned-TV project is in development at MGC and is being shopped to networks this spring. Temple Street Productions, now rebranded as Boat Rocker Media, continued its run in the top three, increasing its spend by $43 million from 2014 to 2015, as it launched two new primetime dramas (X Company and Killjoys, which were both renewed), Orphan Black steamed ahead and its tween/teen slate saw the addition of Lost & Found Music Studios and the multiplatform expansion of The Next Step.
Don Carmody Film and Television, always a top-10 contender, bounced back up in 2015 after a dip in 2014 as the company shifted gears, adding a TV division to its feature film operations. "Every now and then you have to go back to the well and get fresh water," Carmody quipped to Playback on the year. And Calgary's Nomadic Pictures continued to capture serious spend out West. In 2015, it announced it would be the sole producer helming 13-episode drama Van Helsing for Syfy, currently in production in Vancouver, in addition to its service production on FX's multiple-award-winning Fargo.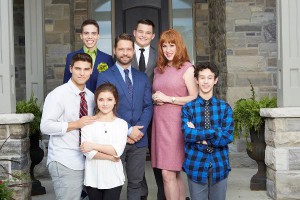 Another big move of note: Toronto-based Aircraft Pictures saw its total spend take off from under $1 million in 2014 to $14 million in 2015 (#31) with greenlights for its star-studded Raising Expectations (starring Jason Priestley and Molly Ringwald, pictured at right), its Gordon Korman adaptation Bruno & Boots: Go Jump in the Pool and animated feature The Breadwinner.
Andrew Rosen, co-president, Aircraft Pictures, says the huge jump in production for the company in 2015 pushed them to "maximum capacity" – a feeling with which many prodcos of Aircraft's size could no doubt empathize. "We've recently expanded our core team in an effort to minimize the peaks and valleys between development and production," he adds.
There are also some exciting new Canadian companies on the list this year that reflect the growing borderless approach to production. Five-year-old Bron Studios rocketed onto the list, just shy of the top 10 at #11. This Vancouver-based, vertically integrated operation has done 15 feature films since 2010, often partnering with prodcos or studios from other markets to bring its plans to life. It has diversified rapidly in the past year, launching a genre label and animation studio alongside its executive producing and financing arms. And Our House Media made a bold entrance to the list this year too. Led by former Cineflix execs Simon Lloyd and Joe Houlihan, the company arrived at #23 with a loaded slate – a rapid-fire rise it attributes to its broad, cross-border focus.
Lloyd tells Playback the company greenlit 108 hours of programming since it launched two years ago and says he attributes much of the success to the relationships the company has with casters on both sides of the border, as well as its focus on building a "deep" team of producing and executive talent.
The estimators: public companies Lionsgate and DHX do not typically submit to the Indie List, but their quarterly reports offer a window into approximate spend. For the calendar (not fiscal) 2015 year, Lionsgate is estimated to have spent $968 million in film and TV production (according to line item "Investment in film and TV") while DHX is estimated to have spent $135.7 million (according to line item ""direct production costs and expense of film and TV produced"). Neither spend has been adjusted by Playback to account for financial instruments.
Development
New to the list this year is a break-out section on development, which Playback hopes will shed light on how and where the industry is headed in the years to come.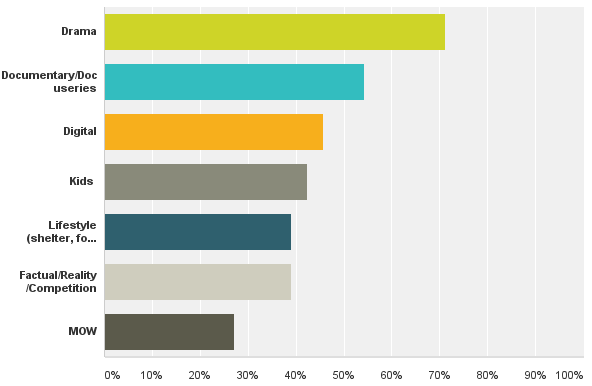 Unsurprisingly, drama topped the development-genre list, with 70% of respondents identifying it as an area of focus. But documentary/docuseries was in #2, reflecting the growing appetite for this type of content from new players like Netflix. Factual and lifestyle tied at 39% each and MOWs sat at the bottom (don't be sad for MOWs – they remain very good business for companies like Vancouver's Odyssey [#16] and Montreal's Incendo [#22]).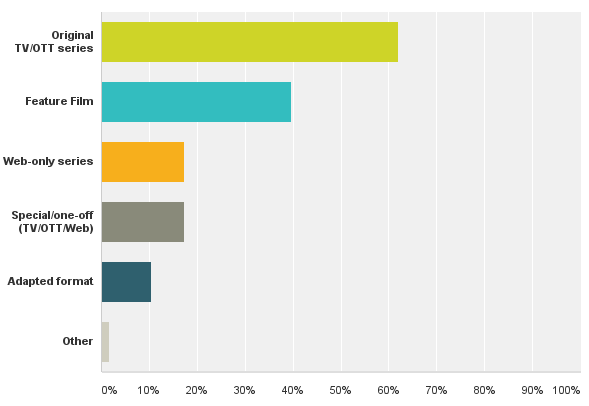 Format-wise, 62% of respondents identified TV/OTT as an area of focus. Feature film sat in #2, at 40%, despite the challenges of ROI in that sector. Web-only series tied one-off TV/OTT/digital specials at 17% for producer focus and adapted formats sat at the bottom with 10%. Forty-seven percent of respondents said they had 10 or more projects in the development pipeline.
 Thanks to everyone who submitted surveys for the 2016 Independent Production List