John Tory outlines plans for a more production-friendly Toronto
The Toronto mayor addressed media and industry at Cinespace Film Studios on Thursday, following up on his trip to L.A. this winter.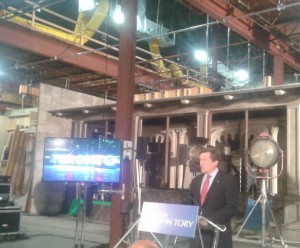 Though Toronto is thriving amidst five consecutive years of more than $1 billion in annual production spending, the city has the capacity to go further. That was the message from mayor John Tory at an announcement held at Cinespace Film Studios (Kipling) on Thursday.
Following February's trade mission to L.A., Tory noted that industry representatives "[went] to say thank you, but also to listen." There they found a "great consistency" in what various L.A. studios had to say, remarked Tory, both in terms of the good and the bad. Though many in L.A. voiced positive experiences of Toronto, some felt there were areas where improvements could be made. Namely with regards to ensuring the stability of the province's incentives, streamlining the city's processes to get production pushed through more quickly, and finding extra space.
"Don't mess with the money" was, perhaps inevitably, the first concern L.A.-based studios conveyed to Tory and others on the mission, in response to the lowering of the Ontario Production Services Tax Credit from 25% to 21.5% in April 2015. Reassuring investors and potential investors in Toronto-based production that stability was something the province could provide was key to the mission, said Tory.
Tory also broached the always-hot topic of finding more space for Toronto's at-capacity studio industry. The city will work with the film and TV industry, the mayor said, to identify city-owned assets (both in terms of buildings and land) that can be used for potential expansion, although he did not elaborate on what those might include.
In addition, the city will seek to address parking issues by identifying potential sites for off-street base-camp parking.
Customer service is another focus. The L.A. contingent suggested Toronto's regulations around road closures and other such requirements could be streamlined and, in response, Tory said he will establish a group that will bring city planning, real estate services, parks and recreation, transportation, parking authorities and police to the same table, in order fast track production-related requests.
As well, the city will work with guilds, unions and educational institutions to increase the number of people with specialized production training, said Tory. Feedback from L.A. was that Toronto would benefit from having greater depth in its talent pool, especially as the industry expands. Institutions such as York University are developing what Tory described as a "hands-on film training program," which will produce graduates in 2019.
Tory reiterated that 2015 was a record-breaking year for Toronto, with investment topping $1.5 billion. So far this year, he added, U.S. companies have invested $800 million in projects that are either in production now, or will be during 2016.
Though Tory did not provide great detail on any of the directives proposed, the message he communicated was that streamlining the city's processes will make the film and TV a far more attractive proposition to both U.S. and domestic producers. "All this is about fostering an even more film-friendly city," he said.