Glamazon Pictures options the True Born trilogy
Melanie Windle and Courtney Graham's Toronto-based prodco is looking to turn L.E. Sterling's young adult novels into a TV series.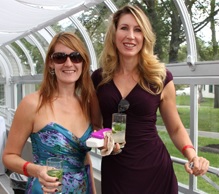 Toronto's Glamazon Pictures has acquired the option to L.E. Sterling's book trilogy True Born, with the prodco now looking to adapt the story for a TV series.
While the first installment in Sterling's series only hit shelves on May 3, the prodco –  helmed by Melanie Windle (Dirty Singles, Carmilla) and Courtney Graham (Stag) – has optioned the worldwide rights to all three. Though the second and third installments have not yet been written, the Glamazon Pictures team will work with Sterling on how the story will evolve beyond the first book, explained co-president and co-founder Windle.
At this stage, Windle and Graham (with the consultation of Sterling) are compiling an early bible for the series, with the hope the project could go to camera in 2017.
The True Born trilogy is published by Entangle Publishing and the first installment is being sold at Chapters/Indigo stores in Canada and Barnes & Noble in the U.S. 

Glamazon was formed in 2014 with a view to bringing original female perspectives to film and TV projects. The prodco earlier this week wrapped production on sci-fi feature film Seraphim, directed by Jared Pelletier. The straight-to-SVOD project is doubling as both a feature film and a 10-part online series, depending on how each SVOD platform decides to roll out the project.
Seraphim was produced in collaboration with executive producer and distributor Rockzeline, and France's Canal Plus, which will debut Seraphim on its recently announced SVOD platform Studio Canal. The project has also secured pre-sales to SVOD platforms in Russia, South America and a number of other European territories. The Toronto-shot feature begins when a father and daughter discover a mysterious archaeological dig on their plot of land.
The prodco also recently optioned the rights to Don Hoglund's 2006 novel Nobody's Horses, which it is adapting for a feature film.