Halfire back with Aftermath
Noreen Halpern's prodco has a new series greenlit with Space and Syfy, starring Anne Heche (pictured).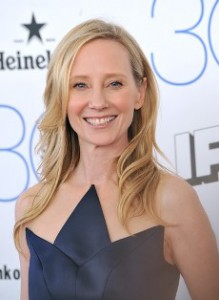 Veteran industry producer Noreen Halpern has a new drama greenlit with Space and Syfy.
The 13-episode series, produced by Halpern's Halfire Entertainment in association with Space and Syfy, will premiere in Canada and the U.S. later this summer. Production on the series begins May 9 in Vancouver. Halpern launched Halfire in 2012 and debuted Working the Engles on Global and NBC in 2014.
Aftermath follows a family struggling to survive in a post-apocalyptic world full of supernatural creatures. It stars Anne Heche (Hung, Men in Trees) and James Tupper (Revenge, Men in Trees) as Karen and Joshua Copeland, parents to three teenagers.
The series' creators and showrunners are Canadians William Laurin and Glenn Davis (Missing, Power Play), who will executive produce alongside Julie Hope. Suzanne Berger and Connie Dolphin will produce and Tupper will coproduce. Jason Stone (This is the End, The Calling) will direct the first two episodes and serve as a consulting producer.
Also set to direct episodes in the inaugural season are Leslie Hope (24), who will also guest star, Stefan Pleszczynski (19-2), Kaare Andrews (Altitude), April Mullen (Below Her Mouth) and James Marshall (Smallville).
The show is distributed in Canada by Halfire Entertainment and Universal Cable Products has international distribution rights.