Coming Soon: How to Plan an Orgy in a Small Town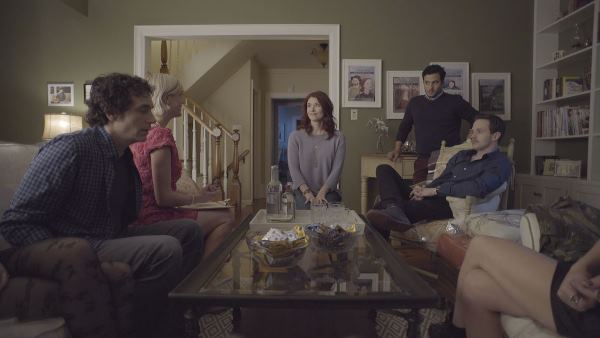 Andrew Hunt shares Northern Banner's day-and-date distribution strategy for How to Plan an Orgy in a Small Town, premiering in select theatres starting May 13.
Coming Soon, an ongoing editorial feature from Playback, highlights the distribution strategies for soon-to-be-released Canadian films. Here, we speak to Andrew Hunt, managing partner at Raven Banner and Northern Banner, about the distribution strategy for How to Plan an Orgy in a Small Town.
The film: The comedy tells the story of a sex columnist, Cassie Cranston (Jewel Staite), who returns to her hometown for her estranged mother's funeral. When she gets back, a group of eccentric townies enlist her to plan an orgy.
Production/distribution credits: How To Plan an Orgy in a Small Town is directed and written by Jeremy LaLonde. The film was produced by Jordan Walker of Toronto-based Neophyte Productions and executive produced by Ennis Esmer, Avi Federgreen, Erla Glesby, Ryan Goldhar, Shawn Hebb, LaLonde, Lori Montgomery, Jake Raymond, Michael J. Roberts, Alisa Scott and Jewel Staite. Toronto-based Northern Banner, which acquired the film in December 2015, is distributing the film in Canada, while Gravitas Ventures is distributing it in the U.S. 

Theatrical: The film is set to premier in Toronto, Halifax and Ottawa, with Northern Banner also in the process of confirming Vancouver. The film will be released on May 13th on two of Cineplex's event screens in Toronto and Halifax so that it can go day and date with the VOD release. Hunt believes this strategy will give them more marketing support as well as enable them to attract a larger audience. Each theatre will be playing the film for one week. The film will also be shown at Mayfair Theatre in Ottawa.
"The reason we're going with those [cities] is because being in Cineplex is great for visibility for the film," said Hunt. "By going on the event screens in Toronto and Halifax, we're going day and date with our VOD and not held to a 90-day distributing window." In the U.S., the film is being released theatrically with the VOD day and date, added Hunt.
Hunt felt it was important to have the event screenings go day and date in both Canada and the U.S., as this will allow Northern Banner to steer clear of being held to a 90-day window as well as losing out to possible piracy.
Marketing: Alongside street postering with Canadian markets, Northern Banner is working in collaboration with The Hive, an ad agency in Toronto, to launch a game that is branded with the film. The premise of the game is this: a player is given the name of a town or the name of a sex term, and the player must determine which one of the two they have. The game will be posted online as a BuzzFeed quiz, and will also be launched as a physical copy, with both available on May 17. The online quiz will be shared through How to Plan an Orgy and Northern Banner's social media platforms.
Additional windows: How to Plan an Orgy will be available on VOD, iTunes, Vimeo, Google Play, Sony Playstation and Xbox Zune, as well as service providers Shaw, Bell and Rogers, on May 13. There is currently no broadcaster attached to the film.
Target audience: The film's main target demographic is young adults aged 18 to 25, while their second target demo is adults aged 25 to 40. Hunt added that he believes the branded game will attract the film's target millennial audience. The film played at Slamdance in Park City, Utah and the Canadian Film Fest in Toronto, where it won best film of the fest.
What makes this film unique? "It's a great hilarious Canadian film," said Hunt. "This is a perfect example of a Canadian film done right. It's got great, fresh talent in both the cast and director. Jeremy LaLonde is definitely a director to look out for in the future. It's just a fun, silly, but unique Canadian comedy, and it's one that has broad appeal."
Financing: The film was financed in part by Telefilm Canada, tax credits and an IndieGoGo campaign, which raised $136,400.
[youtube //www.youtube.com/watch?v=u2059BLxqfM]