Buck partners with Chronic Media on Mandy Town
In partnership with St. John's-based Chronic, the producer is developing another factual series with built-in branded content potential. (Mandy Rennehan pictured.)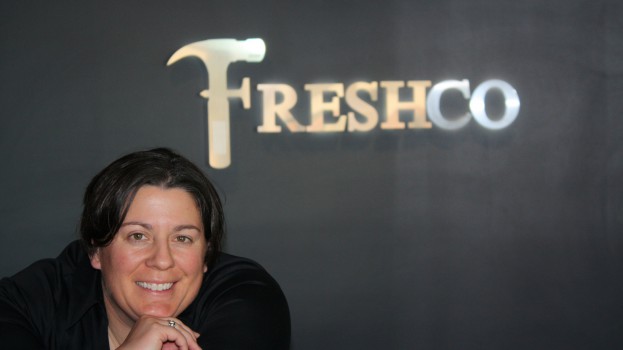 Toronto's Buck Productions has partnered with St.John's-based Chronic Media to develop its latest branded entertainment series, tentatively titled Mandy Town.
The factual television series is based on the life and projects of Mandy Rennehan, the founder of Freshco, an on-call retail construction and maintenance provider that has worked with retailers such as Apple, Nike and Lululemon. Freshco operates across Canada and in the eastern U.S. Producers on the project to date are Buck's Sean Buckley and Jim Kiriakakis, with Chronic Media's Jenny Smith executive producing.
Buck will be approaching Fortune 500 companies that have worked with Freshco, and that want access to audiences, to financially participate in the show, Buck's president and CEO, Sean Buckley, told Playback Daily. Buck will then take those brand partnerships to broadcasters.
"We're coming in as a partner in assembling the financial scenario for the show," said Buckley. "I'm not just saying, 'Hey, here's a great show and here's what I need for the licensing fee.' [I'm saying], 'Here's a great show, and here's the brand partnership that's already in place.' This, to me, is what true partnership is about."
Buckley believes Mandy Town will find a natural home with Canadian broadcasters, given that Rennehan is a native of Yarmouth, NS and the city will be featured in the show. That being said, he believes international broadcasters will also be interested in the series because of Rennehan's "larger-than-life" character.
"Great content and great characters transcend all borders. And Mandy will," he said.
Chronic Media brought the property to Buck. Smith, a partner at Chronic Media, is also president of advertising and marketing company Ray Agency, which counts Freshco as a client.
Buck has produced several other branded content programs, such as CBC's Mitsubishi City Chase, Canada's Best Beauty Talent for Rogers Media and L'Oreal Paris, as well as the Red Bull-backed McMorris & McMorris for Bell Media.
Buck will maintain rights to Mandy Town while it shops the project.