In brief: NSI New Voices, Saving Hope goes to camera
CTV's Saving Hope (pictured) begins filming in Toronto, TVO to honour Deepa Mehta, plus more news.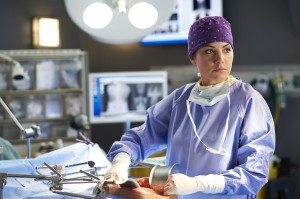 2016 NSI New Voices students announced
The National Screen Institute (NSI) has announced the students selected for this year's NSI New Voices training program. The 2016 NSI New Voices students are Justin Kehler, Cody Halcrow, Shannon Bear, Olly King (aka Kenneth Burns), Jordan Wagner, Zachary Harper, Phoenix Campbell , Janelle Gossfeld and Darcy Waite, all from Manitoba and Alberta. NSI New Voices provides training  to young Aboriginal adults, aged 18 to 35, who aspire to work in film and TV. Seminars and workshops are guided by industry professionals and students have the opportunity to intern with a broadcaster or independent production company. Students will also produce and screen three short films. The program is led by Ursula Lawson, along with Kaya Wheeler, Lisa Meeches and elder Colin Mousseau.
TVO to honour Deepa Mehta at annual Tribute Gala
Screenwriter, director and producer Deepa Mehta will be honoured at the 5th annual TVO Tribute Gala on October 27. Mehta, well known for her Elemental Trilogy (Fire, 1996; Earth, 1998; and Water, 2005) will be recognized for her use of film to help educate audiences. The public broadcaster's marquee fundraising event will be held at the Fermenting Cellar in Toronto's Distillery District, with Steve Paikin serving as master of ceremonies.
Production Begins on Season Five of Saving Hope
Season five of Saving Hope is currently shooting in Toronto and the Greater Toronto Area. The series is produced by ICF Films with eOne, in association with CTV and with the participation of the Canada Media Fund and the Canadian Film or Video Production Tax Credit. Production of the 18-episode season is scheduled to wrap in November 2016. Saving Hope airs on CTV in Canada and on ION Television in the U.S., which also renewed the series for a fifth season.
Web version of Hollywood Suite GO app launched
Hollywood Suite has announced the launch of its web version of the Hollywood Suite GO app. The VOD service is online at HSGO.ca for Hollywood Suite subscribers from Access Communications, Cogeco, Eastlink, Hay Communications, MTS, NorthwesTel, Rogers, Shaw, Shaw Direct, Source Cable, TELUS Optik TV, and VMedia. Hollywood Suite offers subscribers films from the 70s, 80s, 90s, and 2000s.
Production underway on Incendo's Serialized
Production is underway in Montreal on Incendo's first movie of 2016, Serialized. Directed by Michel Poulette (Brace for Impact) and starring Vanessa Ray (Blue Bloods, Pretty Little Liars), Adam Korson (Seed) and Tara Spencer-Nairn (Corner Gas), the film tells the story of an acclaimed novelist, whose weekly crime stories attract a copycat killer, who begins re-enacting the fictitious murders.  The film is produced by Incendo's Ian Whitehead and Jean Bureau, who also executive produces. Last year, the prolific Montreal-based producer completed work on its 60th production.