Code 8 sets crowdfunding record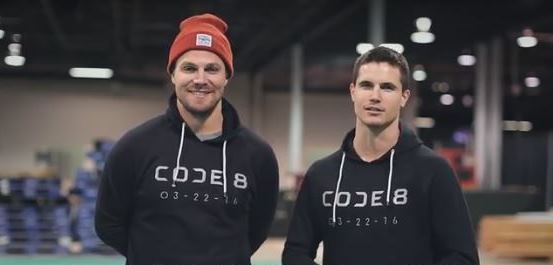 The feature film project from director Jeff Chan and writer/producer Chris Pare has set a seven-figure record. (Stars Stephen and Robbie Amell pictured.)
An Indiegogo campaign in support of Code 8, a feature film from up-and-coming Canadian director Jeff Chan and his partners, has set a record for a Canadian film.
Code 8 has raised more than USD$1.1 million, skyrocketing past its initial $200,000 goal, making it the largest-ever crowd-funded campaign for a Canadian film on any crowd-funding platform, Indiegogo confirmed to Playback Daily.
Written by his business and creative partner Chris Paré, the project is set to be the first feature film from Canadian actors Stephen and Robbie Amell, cousins and stars of Arrow and The Flash, respectively. Sung Kang (Fast & Furious 6, Fast Five) is also attached to the project.
Code 8 is based on a short of the same name, created by Chan, Paré and the Amells. It takes place in a world where a small percentage of the population are born with supernatural powers. These "specials" live in poverty and are targeted by the police. In the short, the younger Amell plays a special who struggles to make a living.
The Vancouver-born director and Toronto-born Amells self-financed the short as a proof of concept. They debuted the short and launched the Indiegogo campaign on March 22. Having raised more than five-times their goal, the team anticipates it will begin production in February of 2017, with an October premiere date in mind. The project is currently in development and it has been provided rent-free studio space by Cinespace Toronto, as part of its Nick Mirkopoulos Canadian Content Initiative.
Chan, one of Playback's "5 to Watch" in 2014, rose to prominence after creating the viral Activision short film Call of Duty: Operation Kingfish. The "fan video" caught the attention of Activision, which then commissioned Chan to do a short film on Call of Duty III.
Correction: An earlier version of this story specified that Code 8 had set a record for a Canadian film on Indiegogo but in fact it has set a record for a Canadian film across all crowdfunding platforms in Canada.