A new strategy takes shape at Cinespace
As General Motors announces a new campus on former Cinespace land on Eastern Ave., the studio's owners reveal the plans behind the sale.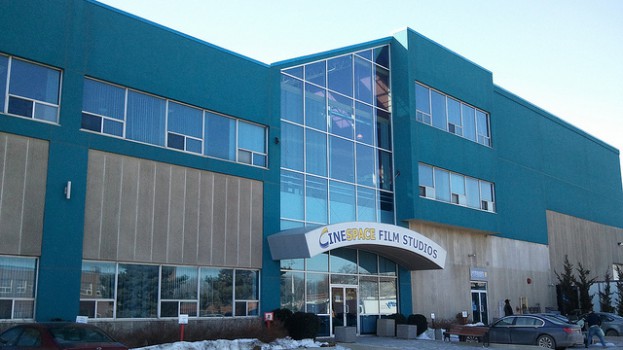 It's no secret that Toronto is getting pretty short on studio space.
So when news broke Tuesday that General Motors was setting up a new campus in Toronto in what the Globe and Mail referred to as a "space currently occupied by a film studio" it would be rational to have the industry's first response be alarm.
However, the industry and Cinespace's current downtown Toronto clients can rest easy for the moment, says Cinespace VP Jim Mirkopoulos. The GM news is one part of an expansion strategy the company has in place, and is working towards, in both the short and long term.
As announced by GM Monday, Cinespace has sold a seven-acre parcel of land to the automotive company next to its Eastern Avenue studio, which currently houses the big-budget American Gods shoot. However, Cinespace built a one-year window into the sale, giving American Gods enough time and more to complete its season-one shoot without jackhammers setting up camp alongside.
Cinespace has also completed a similar, longer-term deal for a piece of land adjacent to its Booth Street location with developer First Gulf. It will lease back its parcel of land on a multi-year term, giving a wide cushion to The Strain, or another TV series, to complete multiple future seasons without construction alongside. It has also retained the option for another term should the plans for the site's development not move forward on the projected schedule.
Both deals, stresses Jim Mirkopoulos, have been done with the goal of re-capitalizing Cinespace so that it can move forward on expansion plans, while recognizing at the same time that the waterfront area in Toronto is changing rapidly and the company would benefit from a nimble approach.
"We have an excellent partner in GM, who will continue the tradition of high-quality jobs at this site," Cinespace president Steve Mirkopoulos said in a statement issued via GM. "This transaction also means no disruption for the vibrant film business in the short term and provides us with the resources and time to develop the future vision of Cinespace."
The company has done two long-term leases on warehouse spaces in Etobicoke and Mississauga to not only preserve its current square footage but add to it. "We're already ahead of the game net square-footage-wise," Jim Mirkopoulos told Playback Daily. "We have plenty of overflow space for our clients, so we're positioning for any loss of space a year ahead of time."
For the longer-term, Cinespace has been "actively engaged" with the the City of Toronto, working in tandem with Ward 30 city councillor Paula Fletcher, on its ambitions to relocate its downtown studio capacity, he said. "Now we've re-capitalized and are aggressively pursuing studio re-location and expansion in the City of Toronto and elsewhere but we're especially interested to look at any Portlands options the City puts in front of us."
Image: Cinespace Film Studios Toronto Booth Ave / Sergey Shpakovsky