Larry Weinstein brings sax appeal to first project
The Devil's Horn (pictured), from LWP, Rhombus and Films We Like, is Weinstein's first project as an indie since departing Rhombus Media last summer.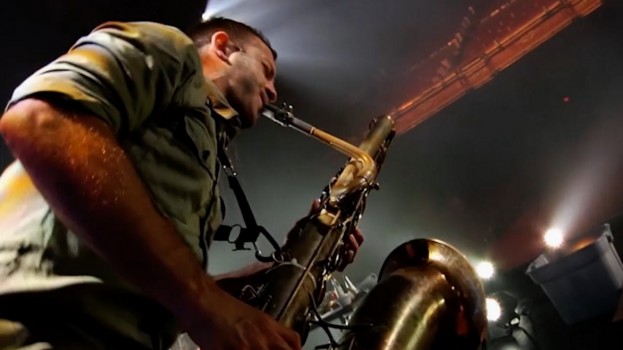 This week sees the release of saxophone documentary The Devil's Horn, the first project from director/producer Larry Weinstein under his new eponymous indie banner.
Funded by Telefilm and the Rogers Documentary Fund, the doc is produced by Larry Weinstein Productions and Rhombus, in association with Films We Like, with the participation of OMDC, The Movie Network, and ARTE. The Movie Network and Movie Central hold the broadcast rights to the film. In addition to Toronto, the film will also open theatrically in Winnipeg, Victoria and Vancouver over the next month.
The long-time Rhombus Media partner left the prodco last summer to strike out on his own, bringing The Devil's Horn with him. Weinstein, whose music-based directing credits include Beethoven's Hair and Mozartballs, had read Michael Segell's 2005 book The Devil's Horn: The Story of the Saxophone, from Noisy Novelty to King of Cool and become intrigued with the history of the instrument, later optioning the book.
Production on the $800,000 doc began in 2012, with filming taking place in various locations throughout Europe and North America, including two Belgian cities (Dinant and Brussels), as well as New York, Montreal and Toronto. In accordance with the agreement between Rhombus' founding partners (Weinstein, Barbara Willis Sweete and Niv Fichman), Weinstein owns The Devil's Horn. The agreement with the partners was that each would own the projects that they had directed.
Weinstein both produces and directs the 90-minute doc, with Niv Fichman executive producing. Fraser Ash serves as supervising producer while Tessa Lai is line producer.
The film charts the 175-year history of the saxophone, exploring the idea that the instrument has had a curse attached to it and its players. The film made its world premiere in February at Victoria Film Festival (VFF), where Weinstein said he has already debuted six or seven of his films.
"[VFF] hits at a time in January or early February when other festivals haven't yet. I'm usually terrified once I've finished a film and I want to see it in front of an audience [as early as possible] and see their response," he said.
Now that Devil's Horn is complete, Weinstein said he will be focusing primarily on directing for the time being. And though Weinstein is known predominantly as a director of musical-centric documentaries, he said he is open to projects of all kinds. Among the projects he is currently working on is a documentary with Toronto's Matter of Fact Media. The doc, about French Actress Leslie Caron, will be completed this month.
The Devil's Horn opens in Toronto's Bloor Hot Docs Cinema Saturday, April 23.