NSI names Online Short Film Fest winners
Flankers from Newfoundland-based filmmaker Justin Oakey was among the shorts to pick up an award.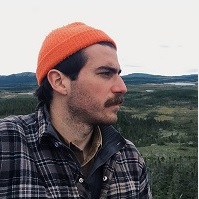 The National Screen Institute (NSI) has named the latest round of winners in the NSI Online Short Film Festival, with Justin Oakey's Flankers taking the A&E Short Filmmakers Award for best film.
With the prize, Flankers, which tells the story of two feuding fishermen, also netted Newfoundland-based filmmaker Oakey a $1250 cash prize.
In the other awards, Kate Yorga won $1,000 Shaw Media Fearless Female Directors Award for her work on When It Is Dark, which she wrote and directed. The project was produced by Yorga, J.Lee Williams, Sean Evans, Adam Mansbridge.
Elsewhere the $1,000 Brian Linehan Actors Award went to Hayley Carmichael for her role in Phone Book. The short, set in London, England, was produced and directed by Alan Powell and written by Angelo Eidse.
The winners were chosen by a jury consisting of film critic and programmer Kirk Haviland, filmmaker Andrew Moir and industry veteran industry professional Inga Diev.