Clique, Violator join forces for Sugar Daddy
The two Canadian prodcos have tapped well-known music video director Wendy Morgan (pictured) to direct the feature, currently in development.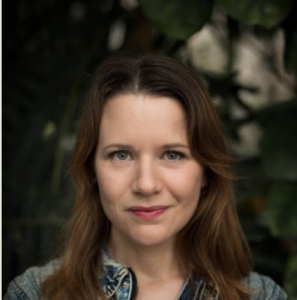 Lauren Grant, founder of Toronto-based production company Clique Pictures, and Lori Lozinski, owner of Vancouver-based prodco Violator Films, have teamed up to produce Sugar Daddy, the debut feature from music video director Wendy Morgan.
Sugar Daddy was written by writer/actor Kelly McCormack (11.22.63, Special Correspondents), who also stars in the film. It follows a struggling musician (McCormack) in need of money to work on her music, who decides to sign up for a "sugar daddy" website – where rich, older men pay to go on dates with younger women.
Grant and Lozinski have worked together previously on two projects, the 2011 short Parkdale and 2009 short Savage. The script, originally sent to Lozinski, fit nicely with the two companies' complementary mandates of producing films with female talent in front of and behind the camera.
"We both really care about female-driven content – realistic, fleshed-out women. And that doesn't necessarily mean strong, and it doesn't necessarily mean the best behaved," says Grant. Lozinski adds that the lead character in the film is one who she hopes will challenge audiences and confront social stereotypes of women.
While they believe the film will find a receptive audience with women between the ages of 18 and 35, they also think the film's musical element will help broaden its appeal.
"We really want to attract some of the leading musical artists that are out there right now in terms of potentially providing music for the film, but also writing some of the songs that we need in the film," says Lozinski. She adds that the goal of attracting big-name musical artists is, of course, to help improve the film's marketability.
Grant and Lozinski hope Morgan's involvement in the film, and her reputation in the music industry, will help attract artists to the project. Morgan has previously directed artists such as Janelle Monae, Gnarls Barkley and The Kills. Her recent dance film Etoiles, I See You, was the opening film for The Paris Opera's 3eme Scène.
Her creative background and point-of-view were the right match for the project, Grant says, emphasizing that they didn't want the hire to come off as a "PSA" promoting an all-female approach.
"We hired Wendy because she's the right fit," she says. "The movie has so much music in it, she has an amazing music background, is obviously a very active music video director, and she also got the story. She gets the arc, she gets what this character is going through, she asks good questions, she challenges Kelly to think about the character in a new way. For us, that was the most important," says Grant.
The film is currently in development and expected to begin principal photography in the fall.