RTR Media inks partnership with N.Y.-based 547 Barnard
The Toronto-based producer has also begun production on a series for HGTV in the U.S. and made two exec-level promotions. (RTR's CEO Kit Redmond pictured.)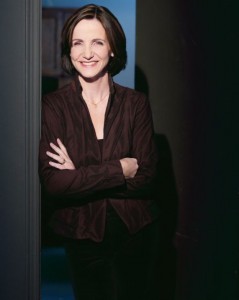 Toronto lifestyle/reality producer  RTR Media has inked a development and production partnership with New York-based unscripted producer 547 Barnard, a newly formed indie prodco led by the former director of original programming at Scripps, Lindsey Weidhorn. 

RTR's working relationship with Weidhorn stems from her time at Scripps, where she oversaw channels such as HGTV, which carried RTR's Income Property series with Scott McGillivray. The content made through the partnership is being produced in the U.S., with a view to be sold abroad. Post-production meanwhile will take place at RTR's Toronto office.
With Weidhorn now making the transition to an indie production company, RTR will be able to leverage the former Scripps programmer's extensive contact's list south of the border.  
In a mammoth raft of announcements, home reno-specialists RTR also revealed it has commenced production on a series for HGTV in the U.S., as well as a pair of executive-level promotions.
On the production side, RTR has begun filming on 10 x 60-minute series Home Town for HGTV in the U.S. The show follows two small town dwellers, Erin and Ben Napier, who use found materials and old textiles to give the town's homes modern and affordable updates. RTR has an additional pair of projects in development with HGTV. The first of these is called Open Concept, while the second is a New Orleans-set series with host Holly Baker.
Under the deal, series produced through the partnership between RTR and 547 will be owned and distributed by the U.S. network which commissions the shows.
As well, the company named Jenna Keane to the position of VP of development and content, and Toni Miceli to the role of VP of production.
RTR recently completed production on a four-part series, Disrupting Design, for the CBC, and the company is now working on the a digital companion series for the project. Among the projects currently on its production slate Income Property: On Vacation, which airs on HGTV Canada. 

In February of this year, RTR's CEO and executive producer, Kit Redmond (pictured), partnered with  Sara Lynn Cauchon - creator and host of YouTube channel The Domestic Geek – to launch a company called  Inspired Entertainment.
Updated: 1:03 p.m. April 7, 2016