MIPTV: The new studio model? Vivendi goes mobile
Vivendi and Havas Media Group exec Dominique Delport reveals the strategy behind its ambitious Studio+ content play, which it aims to expand globally.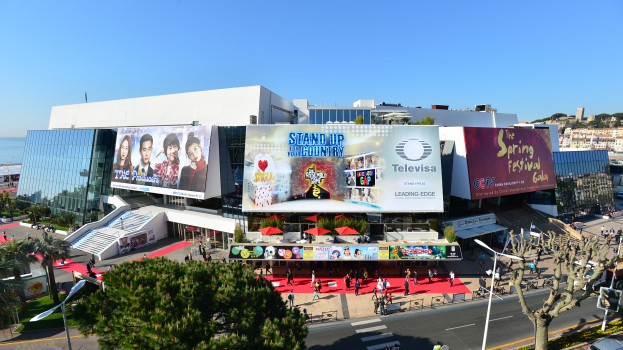 Something shifted in the media landscape at MIPTV in Cannes, France this week.
It was bubbling beneath the surface all week, but on Wednesday it crystallized when Dominique Delport, president, Vivendi Content and global managing director at Havas Media Group, took the stage as one of the event's last keynote speakers.
Delport oversees one of the world's biggest media/content groups and was at MIPTV to reveal an ambitious project: mobile content app Studio+.
Now, content apps are nothing new. But this is. Studio+ is an all-original premium scripted content service with all content commissioned by Vivendi and created exclusively for "vertical" (aka mobile) viewing by 17 "next-gen" producers. In the future, it will acquire content, but it will be "for the most part previously unseen," according to the release.
Launching later this year, the service has a standard series format, 10 x 10 minutes, and will release one new series per week. It has produced 25 series to date, in five languages, targeting European and Latin American markets. It has a further 60 in development. Brands are welcome and encouraged as part of production, but Delport emphasized integration will not be done at the expense of quality – the company wants to keep its pledge to premium at the forefront.
The kicker is Vivendi's distribution strategy. Launching in 20 countries, the company has brokered exclusive carriage deals with a single telco in each country, leveraging its heft as a major holding company (with assets including French pay TV operator Canal+, film studio StudioCanal, Universal Music Group and video platform Dailymotion) to broker the deals.
Each telco will be free to offer Studio+ as it sees fit: as a bundled or included service, as a premium add-on, or whatever. The overall goal, Delport emphasized, is distribution and ensuring it is a value-add service. "We designed this service with telco partners – it's so important as a telco to grow their subscription base," he said.
Studio+ will be promoted through Vivendi's in-house assets: Dailymotion, one of the world's biggest video sites, will support trailers and promotion and music will be done through Universal. Talent acquisition is a focus, Delmont emphasized: "What we want is to create an ecosystem that is relevant. We want to talk to talent and get them to stay with us or come back home."
Is this starting to sound familiar?
A U.S.-style studio system is an ecosystem: with all assets in-house, companies can extract the most value from their investments. They can operate at scale and take risks. And for advertisers, they offer a one-stop shop: advertising and promotion through media assets, large-scale buys and brand integration through the studio. For producers and talent, it gives them a home and reliable place to do business.
But the difference here is this is on a global scale and on much smaller screens.
"Mobile rules the world" is one of the three legs on Vivendi's new-strategy stool; the other two being to support European and Latin American talent and "the need for every content player to take back control of your data."
Vivendi, Delport says, sees the opportunity here to gain a potentially game-changing foothold in developing markets around the world, the place where it sees the most opportunity for growth in a media-saturated global market. "There is still not premium content that is mobile-first," he said. "Premium short-form entertainment is a big opportunity to create value on mobile networks."
With an average investment of about $1 million per series ("the level of investment, we think, to get premium content," he said), it's clear that Vivendi is not messing around. And the sizzle, in this writer's opinion, looked incredible. These are not budget web series packaged in a shiny app – they are short versions of the same level of content you see on any major network. "It is a scripted, premium statement," Delport emphasized.
Among the series debuting at launch are Amnesia, a drama with Caroline Proust, Brutal, an action series starring David Belle and Madame Hollywood, a thriller starring Dre Davis.
Although Studio+ still represents a small piece of the Vivendi/Havas pie – and is still very much a "bet," Delport admits – it could be a critical piece of the company's future.
"The strategy and vision is to move from a holding company to a dedicated industrial group dedicated to content," he said. "We are pushing that integrated vision [of the company's assets] in the same way big American or Asian players are connecting all the dots all the time. We shouldn't be shy about it, if there is a clear interest from the audience, from the brand and advertisers and from the content community."
"We want to be talent friendly and studio friendly but we just want to be sure that Europe and Latin America develops its own platform," he continued. "This is absolutely critical. When you look at next generation of consumer, the one that is leaving the poverty line in Africa, in Asia, we want to be there with them and provide them with new services. And mobile will be the device, period."