HBO Canada preps May launch for Sensitive Skin
The second season for the Don McKellar/Kim Cattrall comedy will be paired with a behind-the-scenes making-of documentary.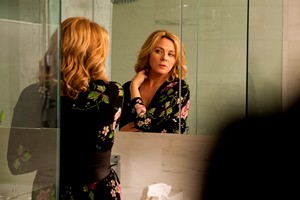 HBO Canada has set a May 15 premiere date for season two of Don McKellar-directed comedy Sensitive Skin.
The first episode of the second season, which went into production in May 2015, will air at 8:30 p.m., after which the entire season will be made available to all HBO Canada subscribers across all its platforms, including TMN GO.
The series – produced by Rhombus Media and Baby Cow Productions - stars Kim Cattrall and Don McKellar as a couple struggling to revamp their lives as they hit middle age.
The series is an adaptation of a BBC series of the same name. Executive producers on the show are Henry Normal, Bob Martin, Andrea Gorfolova, Hugo Blick, Cattrall and McKellar, who also directs the series.
Prior to the May 15 debut, HBO Canada will also air a behind-the-scenes documentary on the series. The Making of Sensitive Skin premieres Sunday, May 1 at 11 p.m.
Tricon Films & Television holds the international distribution rights to the series.