1K Wave Atlantic winners give women a voice in film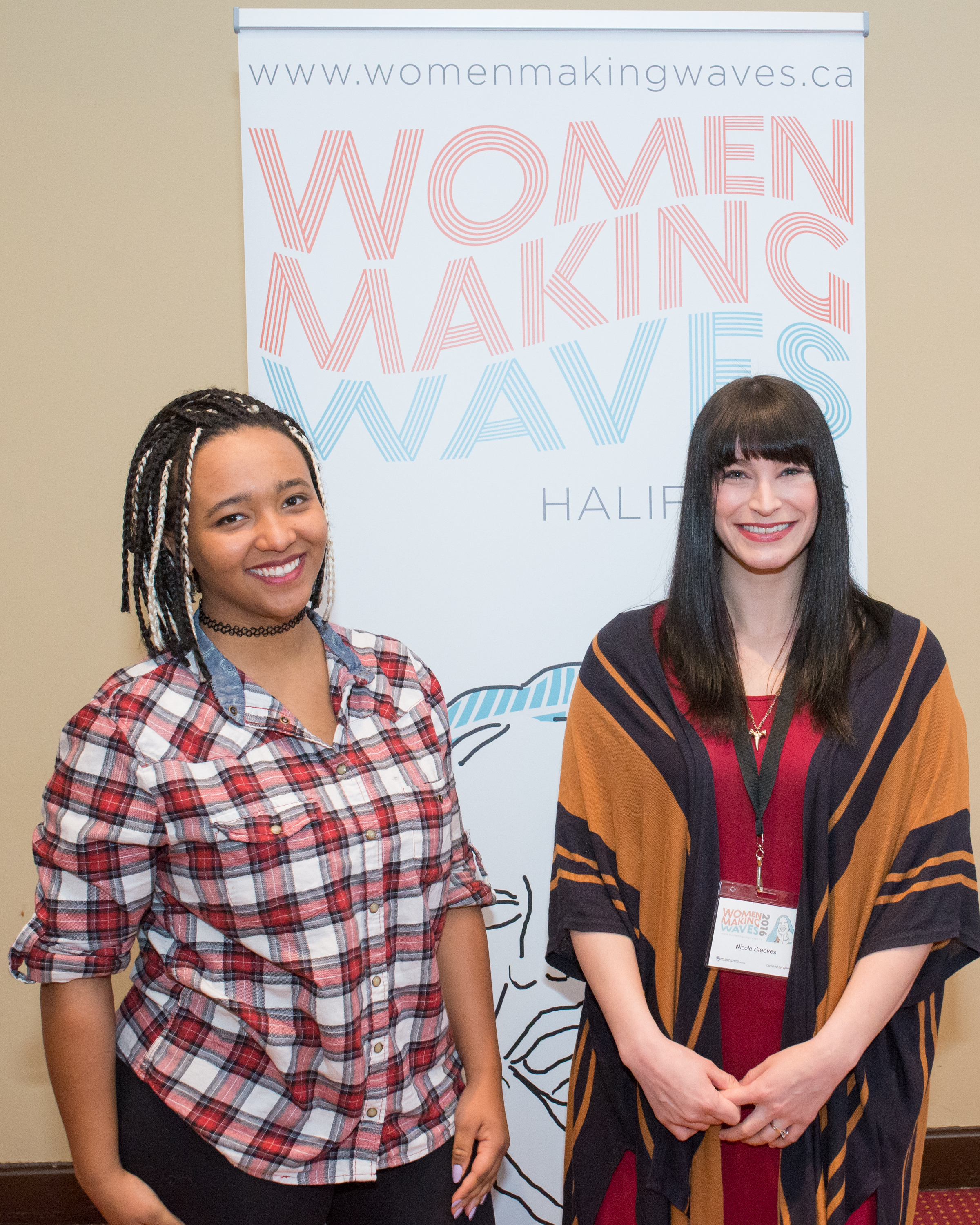 For the second competition, five filmmakers including Koumbie and Nicole Steeves (pictured) will have five months to create their films with budgets of $1,000.
Five selected women filmmakers from Atlantic Canada will put their skills to the test in the five-month program, 1K Wave Atlantic.
Amanda Bulman from Newfoundland submitted a documentary called The First Five Minutes, where various amateur comedians hustle to write their first five minutes of jokes; Catherine Bussier from Nova Scotia submitted an experimental documentary called Taking Care of Life, that asks what taking care of life means; Koumbie from Nova Scotia submitted a drama called Ariyah and Tristan's Inevitable BreakUp, exploring a couple coping with an unintended pregnancy; Nicole Steeves from Nova Scotia submitted a comedy-drama called Head Space, where an agoraphobic man name Floyd gets called for jury duty; and Harmony Wagner from Prince Edward Island submitted a drama called Singing to Yourself, about a deaf woman who chooses to turn her back on the world.
This is the first year that 1K Wave has been held in the Atlantic region of Canada. Winners of this year's challenge had to submit a pitch on a budget of $1,000 that could be produced in five months. The competition was open exclusively to women. 

The films were judged by filmmakers Ingrid Veninger from pUNK Films, Kimberlee McTaggart from Women in Film and Television Atlantic (WIFT-AT), and Martine Blue. Writing and pre-production will commence this month, filming starts in May, while editing starts in June.
"We had specific criteria for the selection process; how well the package was put together, our subjective feelings on the film itself, and the question of 'can they do it within the confine of this program?'" said Kimberlee McTaggart.  

The main focus of this competition is to shine a light upon the talented women in the film industry. McTaggart said while it's tough for anyone to get into the film industry; it's harder for women to get their foot in the door towards higher level roles, such as directing. 

"Women in the film industry are certainly under-represented as directors," said McTaggart. "They make up approximately 17% of what we see in Canadian films and even less in Hollywood films. It's really important to foster women in the role of a director and other roles. The major decision makers over the years have been predominantly male, so I think the under-representation stems from there."
"They're [the film industry] saying you [female filmmakers] can't go out and make a feature film so just go out and do it. That's been our philosophy and that's how you put your name out there," said McTaggart.
1K Wave Atlantic will have a screening for the films in September 2016 in Halifax. Once films are ready for viewing, they are owned by the filmmakers and theirs to take into the world. The winners afterwards can organize their own screenings, enter their films in festivals, raise their profiles and let their achievement be a stepping stone for their next project.
Photo of Koumbie and Nicole Steeves by Michelle Doucette