MIPTV: Private Eyes gets ready to be exposed
The new eOne show for Global looks to bring a big-budget feel and a sassy take to the traditional crime procedural. (Stars Jason Priestley and Cindy Sampson pictured.)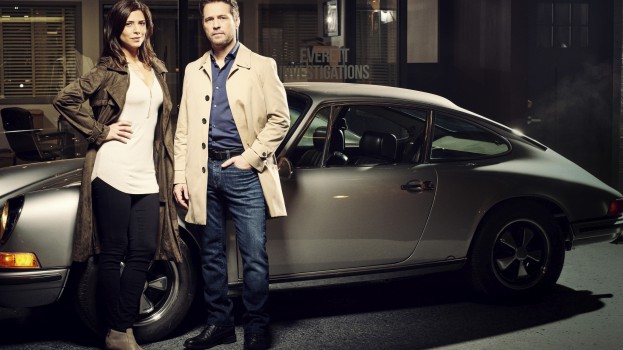 It's a relatively cool morning in Cannes as Jason Priestley, his new co-star Cindy Sampson and executive producers Lloyd Segan and Shawn Piller assemble at a seaside hotel to promote their new show, Private Eyes, at MIPTV.
As (mostly) Canadians, however, we can all agree we're just happy we're not back in Toronto, where frosty temps and "scattered flurries" are the order of the day.
Private Eyes, produced by Entertainment One in association with Shaw Media, is Global TV's next big bet in the one-hour drama arena. With its flagship cop drama Rookie Blue having ended in 2015, the channel has needed a new original hit to take its place in Canadian living rooms.
Private Eyes is one of those contenders – not quite a cop show (the protagonists are PIs) and not quite Castle, the series is an investigative procedural with a lighthearted, slightly comedic bent.
It's that combination, combined with writing that strives for a real-world feel, that Segan and Piller say will make it stand out in a crowded primetime landscape that still relies on procedurals to draw big-demo audiences.
"You're dealing with grounded characters," emphasizes Piller, an American by birth and now the proud owner of a Canadian passport. "Unlike other shows in this genre where you're dealing with a heightened reality, this show deals with the human dynamic. It's about two people trying to find their place in the universe and as a couple, they find their way forward."
"I think people are looking for something aspirational," adds Segan, who partners with Piller on projects through their Piller-Segan Company banner. "Unlike other procedurals that deal in the darkness of life, this is dwelling in the hopefulness of life. Not in a Pollyanna way, but in a wish-fulfillment way."
Private Eyes follows Matt "Shadow" Shade, a former pro-hockey player turned private investigator. He is unwillingly (at first) paired with Sampson, who plays sassy PI Angie Everett. The duo will dive into serious (murder) and not-so-serious (a heist couple who steal brides' wedding jewelry) crimes, while struggling to maintain their professional/not-so-professional relationship and complicated home lives.
Piller and Segan brought the series to eOne based on a long-term relationship with the company, most recently related to Nova Scotia-shot Haven, on which Piller and Segan were executive producers. eOne execs John Morayniss, Rachel Fulford and Tecca Crosby executive produce Private Eyes, alongside Piller, Segan, Shelley Eriksen, Alan McCullough, Tassie Cameron, Kelly Makin and Priestley.
It is set and shot in Toronto – a location selected not just for the financial incentives, Piller and Segan emphasize, but for its potential to be a "character" in the show. In fact, they say, the series received an extra budget commitment from eOne and Shaw to ensure they could afford to shoot in the city, rather than relocate to a nearby, financially favourable municipality.
"What is unique about this show, unlike other shows being exported that were created in Canada and shot in Toronto, is that Toronto is another character. That was a very deliberate decision," says Segan. "We've embraced it"
In addition to deliberate placement of streetcars and iconic landmarks like the CN Tower, Piller points to the Toronto conundrum of luxury cars in unpredictable weather as an example of the series real-life Toronto treatment.
"We didn't shy away from the reality of it. [Matt Shade] still drives a 1969 Porsche Carrera 911, in the snow. There's a great line in the pilot where [Angie Everett] walks up and he's leaning on his vintage Porsche and she says "Oh, I can see where your career ended."
Everett's sassy tone – bolstered, the exec producers say, by a genuine chemistry with Priestley, evident from the first time they met in casting – was influenced and initially crafted by showrunner Shelley Eriksen. Eriksen joined the show and revised the pilot, which was originally adapted by Tim Kilby from Canadian author G.B. Joyce's book The Code. She would later be joined in writer/showrunner capacity with McCullough (Rookie Blue, Reign).
Eriksen had just come of the recently ended Showcase series Continuum (which also featured a female lead) and took over the series following its greenlight from Shaw. She was a perfect fit for the tone eOne, Shaw, Priestley (who, as a producer, played a key role in its development) and Piller-Segan were striving for, says Segan.
"She has an edge to her that is really charismatic. She saw this as an opportunity to take the genre and bring it forth in a new way," says Segan. "We felt she could infuse the voice into Angie Everett in a really modern way… [with] a groundedness and crispness to the dialogue."
Although quintessentially Canadian in its hockey subplot, unabashed CN Tower shots and, well, Jason Priestley-ness, the goal for Private Eyes is to garner global buyers and a global audience, says Segan. "Even though you develop something for the origin market, you're looking at the global market. The global market was always the target."
It's a strategy that worked well for partners eOne and Shaw Media for Rookie Blue, and has the potential to do so again, given American viewers know Priestley well and Sampson has had roles in cross-border series Rookie Blue and Rogue.
And like Rookie, Private Eyes was written to be a show one can watch with their family – a sensible strategy that can sometimes be lost in today's ultra-dark (often extremely male-centric) premium drama race.
Piller becomes animated when talking about Private Eyes' potential for a co-view audience, recalling memories of table-reading Simon & Simon scripts at home with his father, Michael Piller, who was a writer on the show.
"It was escape television you could sit down with your family and watch together. This is the kind of show that someday, when I have a family, it can be like the Simon & Simons, the Magnum PIs [and now] Castle or Elementary – it can be the modern version of that."