DEEP offers VR distribution solution for broadcasters
The CMF-backed software program Liquid Cinema is being showcased at MIPTV. (DEEP owner Thomas Wallner pictured.)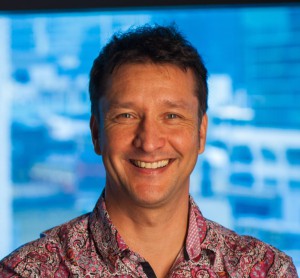 CMF-backed DEEP is hoping to entice broadcasters to the world of virtual reality with its new software, Liquid Cinema. The program, being showcased at MIPTV is also designed to make life easier for VR content creators, says owner Thomas Wallner, with the program providing an easy-to-use platform for those who aren't VR software specialists.
Liquid Cinema – a $1.5 million project funded by the CMF and German-French broadcaster ARTE – looks to solve a number of problems faced by creators of VR content, including the ability to manage where viewers look so they don't miss key scenes.
About two years ago, the DEEP team began trying to answer the question: "How do you direct the attention of an audience in a medium where they're free to look anywhere?" said company owner Thomas Wallner.
The software works by forcing the audiences perspective to that of the director's choosing. So, when you cut from one scene to another, the software reorients the sphere of the incoming shot to the point of view the director wanted you to see, regardless of where you were looking before.
"I believe [this] will become the standard vocabulary of cinematic VR, because it's essential," said Wallner.
Wallner also hopes the software will make VR more accessible, by allowing any content creator (not just those in the VR space) to use the editing tools, which he says are quick and easy to use.
In addition, the program can also be published across multiple platforms including Android, iOS, GearVR, WebGL, Oculus Rift and White label players. Right now, said Wallner, the only alternative is to custom build the content for each platform, adding that it is "financially unfeasible."
With a large number of international broadcasters looking to enter the 360 video space, these savings could entice further broadcasters to invest in the VR space, he said.
Currently, DEEP is shopping the software to high-end international brands and broadcasters. The strategy is to license the program to broadcasters on a subscription basis, though in the future there is the option for the program to be a mass consumer item.
In a larger sense, the main deficiency the program addresses, said Wallner, is the transaction from VR filmmaker to broadcaster. He estimates there are currently about 10,000 international filmmakers shooting 360 video, though there is an uncertainty on the part of broadcasters about how to use the content. "Filmmakers are producing 360 content, and they're really good at it, but the broadcasters are saying 'what do we do with it, how do we show it?'"
"We provide the platform for producers of content to distribute it with broadcast partners. So, in a way, we're connecting two communities through this platform that can't really transact business right now. It's actually a B2B solution," he said.
Liquid Cinema is being showcased by CMF and Telefilm at this week's MIPTV.