Canadian Film Fest announces 2016 winners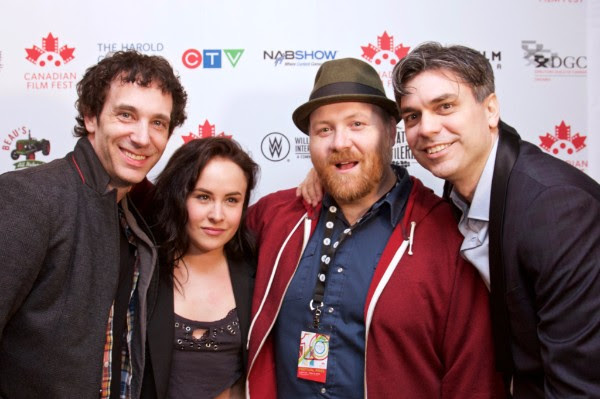 How to Plan an Orgy in a Small Town (pictured) and Winter Hymns take home three awards each.
Jeremy LaLonde's How to Plan an Orgy in a Small Town was a big winner at the 2016 Canadian Film Fest (CFF), taking home the Best Feature award; the first-ever Best Costume Design award, juried by CAFTCAD; as well as Best Ensemble cast. Dusty Mancinelli's short Winter Hymns also took home a trio of awards, including Best Short, Best Cast in a short film and Best Director of a short film.
The 10th edition of the CFF, which ran from March 30 to April 2 at The Royal Cinema in Toronto, showcased a total of eight features and 17 shorts. The winners were announced on Saturday night, following the closing night film, Director X's Across the Line.
It was also announced during the festival that the Canadian rights to Cody Campanale's feature Jackie Boy were picked up by A71 Entertainment.
In addition to the awards picked up by LaLonde and Mancinelli's films, Julia Julep, from director Alana Cymerman, received the William F. White Reel Canadian Indie Prize, while Zach Ramelan's Dead Rush won the HMV's People's Pick for Best Flick.
In the special jury prize categories, Sean Garrity nabbed Best Director, presented by DGC Ontario, for Borealis, while its star Joey King won Best Actress. Director X took home Best First Feature, presented by the NAB Show, for Across the Line, with Stephan James winning Best Actor for his role in the film. Best Actress in a Short went to Deb McGrath for Duty Calls and Best Actor in a Short was awarded to Eric Peterson for Static. The Special Jury Prize for a Short Film went Divorce Photographer from director Christine Buijs, and Best Screenplay went to Madeline Sims-Fewer's The Substitute.
CFF once again partnered with the Harold Greenberg Fund to announce the winners of the Harold Greenberg Screenplay Contest, which is open to Canadian screenwriters who have written a feature-length screenplay. Patrick Whistler took home this year's grand prize award — $10,000 in development funding as well as feedback and guidance through one development round from a Harold Greenberg executive — for his script Ava.
Kate Hewlett's The Swearing Jar was named the runner-up. Both Whistler and Hewlett will also receive passes to the upcoming Toronto Screenwriting Conference.
From How to Plan an Orgy in a Small Town – Jonas Chernick, Tommie-Amber Pirie, writer-director Jeremy LaLonde, and CFF executive director Bern Euler