Christine Shipton to leave Shaw Media in Corus merger
Shipton, most recently chief content officer at Shaw Media, has commissioned thousands of hours of Canadian programming in her career at the company.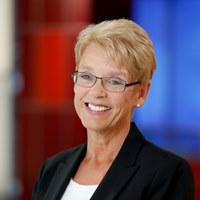 A major shakeup in Canadian TV programming is one casualty of the Corus-Shaw merger, announced as final today by the two companies.
Christine Shipton, described recently by Shaw Media president and EVP of broadcasting Barb Williams a "a luminary in the Canadian broadcasting industry," will be leaving the newly merged company in the coming months. She was promoted to chief content officer at Shaw Media in 2014, responsible for overseeing all original Cancon productions, acquisitions for all international series and for scheduling across both conventional and specialty channels at the network. According to an announcement on her 2014 promotion, Shipton had commissioned 700 hours of Canadian content in 2013 alone.
Shipton will stay on with the company in the coming months to ensure a smooth transition, according to a release.
Williams, however, will transfer to Corus as  EVP and COO at Corus Entertainment, overseeing strategic and operational aspects of generating audience growth across platforms. Williams was named to the top post at Shaw Media in 2014.
The changes were announced today as the companies announced the finalization of Corus' acquisition of Shaw Media. The deal nearly doubles Corus' size, creating a combined portfolio of brands that includes 45 specialty channels, 15 conventional channels, 39 radio stations and a growing portfolio of digital assets.
The company has also unveiled a redesigned corporate brand, including a new leadership team for the combined companies.
Also leaving is Mario Cecchini, president of Corus Média and Corus Radio. Cecchini joined Corus in July 2013. In a previous stint with the company he spent close to five years as VP, Corus Quebec, responsible for the broadcasters' 11 radio stations in the market at the time.
Greg McLelland becomes EVP and CRO at Corus Entertainment, leading the revenue components of the business across all platforms. McLelland had been SVP of sales at Shaw Media. Tom Peddie will continue to oversee Corus' corporate finance, tax, treasury and accounting functions in the role of EVP and CFO.
Colin Bohm becomes EVP of international development and corporate strategy at Corus Entertainment. Bohm and his team will manage the company's business development and strategic planning. He most recently worked as head of the kids division at Corus Entertainment.
Gary Maavara is Corus' EVP and general counsel, overseeing the company's legal matters. He will also continue in his role as corporate secretary to the board of directors.
Cheryl Fullerton becomes EVP of people and communications. Fullerton will be responsible for the delivery of the "people elements" of Corus' business strategy. She has worked as EVP of people at Corus Entertainment since last November. She will now also oversee the communications team at the company, which will be led by Dervla Kelly, who joins as VP of communications from Shaw Media.
Corus Entertainment first announced its proposal to acquire Shaw Media in January of this year, with the CRTC approving the deal last week. Corus shareholders voted to approve the deal earlier this month, with almost 80% of the votes in favour of the acquisition, despite a persistent campaign against the deal by activist investor Catalyst Capital Group.