Production underway on Residue
The West Coast creature feature is the first in a planned trilogy of films. (Producer and star James Clayton pictured.)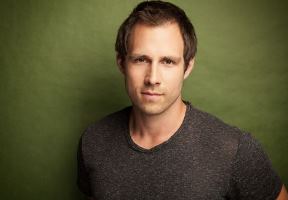 Production is currently underway in Vancouver on Residue, a "neo-noir, horror-creature feature" slated to the first film in a three-movie franchise.
The feature is being produced by Vancouver-based Industry Work Studios and Motorcycle Boy Productions. Producers are Residue are Blain Anderson and James Clayton of Motorcycle Boys Productions, with John Curtis of Industry Works serving as executive producer along with Evan Taylor, Edward Rea and Nina Lee. The film is written and directed by Rusty Nixon.
The film tells the story of a private investigator named Luke Harding who ends up with a supernatural book belonging to a crime lord. As the criminal underworld tries to get its hands on the book, its evil powers being to take hold on Luke and his loved ones. The way in which different people interact with the book in different ways prompted the team at Motorcycle Boys Productions to develop the project as a franchise, said Clayton, who also appears in the film.
"It is a very flexible, multi-faceted story," Clayton told Playback Daily. The second film in the planned trilogy is currently slated to go into production in fall 2016.
Industry Works Studios will be handling the distribution of the film, with the filmmakers targeting both a theatrical and VOD release. Residue was funded predominantly through private investors and tax credits.
Residue stars Clayton, Taylor Hickson, Costas Mandylor, Matt Frewer, Elysia Rotaru, Blaine Anderson and William B. Davis.