Arcana, Shout! Factory extend deal for HP Lovecraft trilogy
The companies have extended their distribution deal for the animated franchise. (Howard Lovecraft and the Frozen Kingdom pictured.)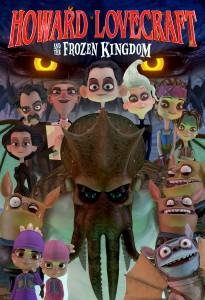 Vancouver's Arcana Studio and Shout! Factory have extended their distribution deal for Arcana's Howard Lovecraft trilogy, with the U.S.-based outfit signing on to also distribute the second and third installments of the three-pic set.
In October 2015, Shout! Factory took all North American distribution rights to Howard Lovecraft and The Frozen Kingdom, which is set for release this summer.
Christopher Plummer and Ron Perlman have also been announced as the lead voice actors for The Frozen Kingdom. Plummer played the lead voice role in Arcana's last feature film Pixies, giving voice to the Pixie King. He has been working on the project for about six months, while Perlman (Hellboy franchise), who Arcana founder Sean Patrick O'Reilly met at Comic-Con in 2014, has been involved since the turn of the year.
In Canada, Super Channel holds the broadcast rights to The Frozen Kingdom, with the air date currently set for Dec. 1, 2016.
At this time the specifics of Shout! Factory's North American rollout of The Frozen Kingdom are not confirmed, though O'Reilly said a theatrical, VOD/SVOD and DVD release are all possible before the year's end.
Arcana and Shout! Factory will begin its "boots-to-the-ground" marketing campaign for The Frozen Kingdom at this July's Comic-Con in San Diego, said O'Reilly, who will be attending with Arcana for the twelfth consecutive year this summer: "It's a good time for us to stand up and make a little bit of noise, because everyone's listening at that time."
The Frozen Kingdom is written and directed by Sean O'Reilly, who produces alongside Michelle O'Reilly. The art director and senior modeler on the project is Gary Yuen, senior editor is Brendan Hansell and CG supervisor is Haqui Gbadamosi. The film is being delivered for May, said O'Reilly, with the second and third installments planned for release in 2017 and 2018, respectively.