In brief: La Guerre wins Guichet d'or; spring premiere dates
Emergency Room and Game of Homes to bow in April, more accolades for La Guerre des Tuques 3D (pictured) and other news.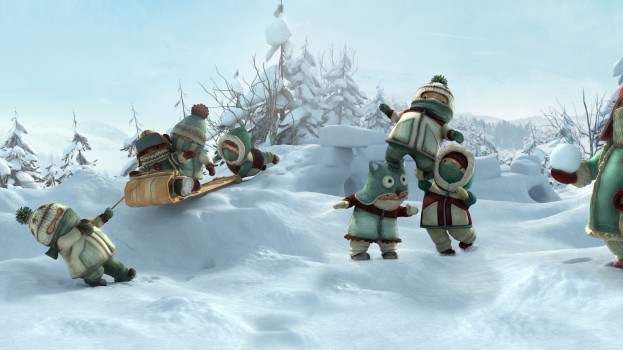 La Guerre filmmakers win Guichet d'or prize
Directors Jean-François Pouliot and François Brisson and screenwriters Normand Canac-Marquis and Paul Risacher have won the Guichet d'or for La Guerre des Tuques (called Snowtime! in English Canada).The award goes to the French-language Canadian feature with the highest domestic box-office sales. After being released in Quebec in November 2015, the film went on to take $3,319,750 before the close of the year. The Telefilm Canada award will be presented March 22 at the Musée Grévin in Montreal.
Game of Homes sets season two return date
W Network's Game of Homes is set to return for its second season on April 12 at 10 p.m. The show, which is produced by Great Pacific Media in association with W Net, has a new host for its second season, with presenter David Salmoni joining resident judges Colin McAllister and Justin Ryan. The new season was initially greenlit in July 2015, after the show's first season debuted in March.
Emergency Room: Life + Death at VGH season two launch announced
Knowledge Network has announced season two of Lark Productions docuseries Emergency Room: Life + Death at VGH will bow on the pubcaster on Tuesday, April 12 at 9 p.m. The six-episode first season picked up 2014 Leo awards for Best Television Show and Best Documentary, as well as two CSA nominations. The second season was shot over 80 days in the emergency department at Vancouver General Hospital, where the first season was also shot. As part of the new season, Knowledge Net will be launching 50 web shorts that will be posted for viewing on the show's webpage.
Tribeca launches digital marketplace event
Tribeca Film Festival has launched a new event aimed at connecting talent from the digital world with the film and TV industry's agents and buyers. The Tribeca Digital Creators Market will take place on April 21 and showcase digital projects from Indigenous Media, Fullscreen, StyleHaul, YouTube Red, New Form Digital and Maker Studios. This year's Tribeca Film Festival runs from April 13 to 24 in New York City.
Red Arrow hires Shirley Bowers for U.S., Canada sales
ProSiebenSat.1 Media-owned distributor Red Arrow International has named former Fox International Channels executive Shirley Bowers as VP of sales and acquisitions for its North American division. Bowers will be charged with driving Red Arrow's sales activities in the U.S. and Canada, and work with other Red Arrow's global scripted and unscripted teams to make acquisitions for the company's North American division. Based out of the company's New York offices, she reports directly to Bo Stehmeier, senior VP of global sales.
NSI, Telus partner for B.C., Alberta workshops
The National Screen Institute has partnered with Telus Optik Local on a series of free workshops, set to take place throughout March and April. The program, entitled From Concept to Camera: Developing Your Story for the Screen, is for emerging filmmakers and mid-career professionals. Workshops will take place in Fort McMurray, Red Deer, Edmonton, Kelowna and Prince George, with the goal of helping filmmakers develop their projects and network. The workshops will be held by NSI facilitators Rudy Thauberger, Mike Fly and Angela Heck.