eTalk CSA special pulls in 803K viewers
The overnight ratings for the Canadian Screen Awards special were 31% higher than eTalk's average overnight audience.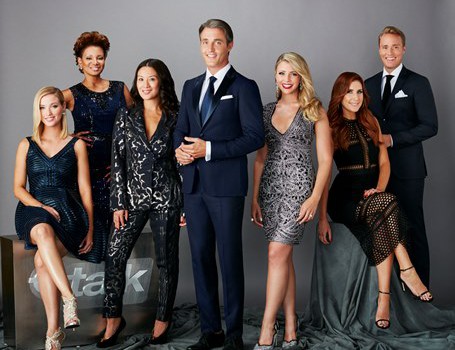 Who says Canadians don't love a red carpet?
While the Canadian Screen Awards gala stayed relatively steady year-over-year for ratings, dipping slightly in 2016, CTV's red carpet special was up 31% over the show's daily average, a interesting glimpse into Canada's engagement with its stars.
The Canadian Screen Award special on eTalk pulled in an overnight audience of 803,000 (P2+), a 31% increase over eTalk's average overnight audience. The viewership for the special also grew significantly on a year-over-year basis. Last year's post-CSA show, which aired on March 2, 2015, had an average overnight audience of 626,000 on CTV. 
The special, which aired on Monday at 7:00 p.m. on CTV, was watched by more than 2 million unique viewers overall, according to Numeris data provided by Bell Media. The show's 7:30 p.m. broadcast on CTV Two also brought in 107,000 viewers.
The eTalk at the CSAs special featured one-on-one interviews with from the gala's red carpet at the Sony Centre for the Performing Arts with the likes of Christopher Plummer, Eugene and Dan Levy, Catherine O'Hara, Emma Donoghue and Martin Short. The episode also included a "fashion face-off" segment with Danielle Graham and Lainey Lui, with Jessi Cruickshank looking at social trending topics from the night.
Sunday night's CSA gala was broadcast on CBC, earning an average overnight audience of 522,000 for its 8 p.m. to 10 p.m. broadcast, according to information provided by the pubcaster. The overnights for 2015′s broadcast gala, held at the Four Season Centre for the Performing Arts and hosted by Andrea Martin, pulled in an average audience of 543,000. That was an incremental increase over 2014, when overnight ratings were 534,000.
A high degree of interest in the red carpet special bodes well not just for general awareness of the awards, which may or may not pay off over time, but for the entertainment industry at large and other industries affiliated with it. Talent getting national airtime in glitzy gala outfits benefits all IP they are involved with and amps up the perception of a world-class industry; additionally, fashion designers, stylists and retailers benefit from the glow, expanding the impact a national awards show can have.