Packaging key to pitching digital: panel
The first CSA: Behind the Screens industry forum saw industry experts emphasize the need for digital creators to pitch broadcasters and studios with a well-developed project.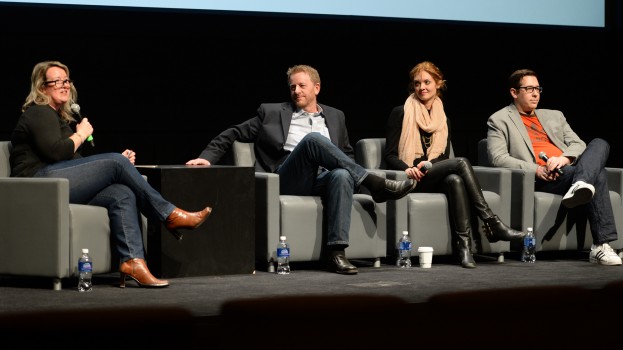 The Canadian Screen Awards held its first industry forum day Friday at the TIFF Bell Lightbox, kicking things off with a panel entitled "A StoryCentral Approach to Discoverability, Engagement and Interaction" which aimed to give advice for digital producers trying to navigate the current landscape.
Much of the discussion centred on the degree to which the larger media companies and studios are, and want to be, involved in the digital space.
The panel consisted of digital and branded entertainment strategist Jesse Albert, Ryerson Transmedia Zone executive director Ramona Pringle and CBC's head of digital Richard Kanee.
Albert argued that revenue models – while still heavily in favour of TV – are beginning to shift slightly toward digital projects, but that the onus is on digital content producers to ensure the money made in the digital space is commensurate with the quality of the work. "We can't be satisfied with selling [at $1,000 a minute] just because we want to produce something. The onus is on us as producers and consumers to convince buyers that it's worth the investment. We need to get better at the engagement so we can continue to justify a 10,000-a-minute spend."
This has made the need to package each project more important than ever, continued Albert. "Nobody develops any more – they don't have the time or the manpower to develop. You need to walk in with a full package," he said.
Kanee also said that one of the major problems facing digital content is that big media companies and studios aren't willing to invest sufficient time into making them a success.
"If I'm busy making Ant-Man 7 and it's going to bring in half a billion dollars, this [digital investment] is a novel exercise," he said, citing Disney's acquisition of Maker as an example. The impulse for large media companies and studios, he added, is to ask "how does this contribute to EBITDA?," and if no short-term results can be achieved then they are inclined to move on.
Kanee went on to say that this is a point of frustration, as the amount of investment required in digital projects would be relatively modest: "we're talking about the cost of one episode of The Arrow," he said.
Photo credit: Jag Photography