Going 'All for One' on a new online strategy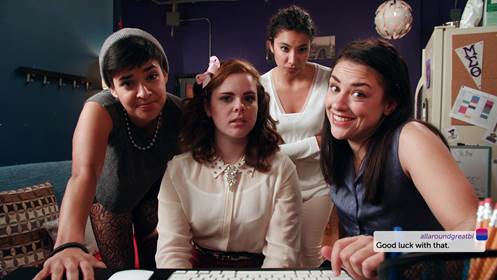 A new original web series, launched simultaneously on Corus' ABC Spark and shift2's Kinda TV YouTube channel, marks a new strategy for both channels.
When ABC Spark launched original series All For One earlier this week, it marked a key strategic shift for both the Corus-owned channel and for the recently rebranded YouTube channel KindaTV (formerly Vervegirl TV).
Launched simultaneously on ABC Spark (the Canadian specialty based on the U.S. brand) and KindaTV, the 29 x 6-minute scripted series is ABC Spark's first venture into scripted short-form content, and also marks the start of KindaTV's push into acquiring content. Previously, the channel featured Smokebomb IP only.
KindaTV is owned by shift2, which is in turn owned by Youth Culture, Shaftesbury and Smokebomb
The show, which tells the story of a group of girls looking to take charge of their destinies, is being rolled out with three new episodes released each week (Monday, Wednesday and Friday) on both channels.
Shaftesbury and Smokebomb's SVP of creative and innovation Jay Bennett describes the All for One acquisition as part of a "facelift and a refocusing of what we're doing [with KindaTV]."

In the past, only one non-Shaftesbury series, SNAFU, had launched on Vervegirl. All For One will be followed in the coming months by the launch of approximately one new series per month. Bennett added that to garner sustained engagement with KindaTV's subscribers "we need to make sure we're consistently rolling out new content."
Two key strategies informed the rebrand, added Bennett: gearing the episode-releasing strategy toward a more regular timetable (so that viewers become more accustomed to when they can go to the channel for new content), and, crucially, making Carmilla star Natasha Negovanlis the face of the channel.
As well as her lead role in Carmilla, Negovanlis will now also post videos three times a week to direct viewers to new episodes of various Kinda content, as well as vlog-style DIY videos and interviews with other YouTube influencers.
During market testing for its 2015 web series V Morgan is Dead, Bennett said the company found that awareness of scripted YouTube content as a form was almost non-existent. "It wasn't that no one had heard of Vervegirl TV – it's that no one had heard that you could find scripted entertainment on YouTube. Natasha is part of the strategy for building the awareness that scripted content exists."
For ABC Spark's part, the decision to team with Kinda TV as a distribution partner was about extending its first ever short-form scripted series to a wider international audience, said Sue Mackay, VP, digital, Corus Women and Family.
"All for One is a big innovation play for us and we wanted to ensure that we maximized our audience reach. Partnering with KindaTV was a perfect fit – their female-millennial target and strong history in this genre will expand the reach and build on the success of this show," she said.
Bennett agreed that there is a great deal of crossover between the two audiences. "We thought [All For One] would fit really nicely into that Carmilla fandom and give them something that felt familiar and yet something new," said Bennett, adding that the content which will be rolled out on KindaTV in the coming months will not necessarily be in a similar vein.
All For One is produced by Corus Entertainment, directed by Shannon Litt and created by Sarah Shelson (The March Family Letters) and RJ Lackie. Toronto-based Cherrydale Productions also did production services work on the project. The show stars Gwenlyn Cumy, Linnea Currie-Roberts, Alejandra Simmons, Angie Lopez, Claire Gagnon-King, Dan Mousseau, Denise Yuen and Damien Doepping.