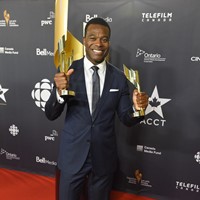 CBC's The Book of Negroes stormed the Canadian Screen Awards second-night gala Wednesday, taking nine TV awards – including a best writing prize and three acting nods – and a digital media prize.
The evening also saw the 2016 CSAs' most-nominated show, Schitt's Creek, take home six awards, including best director in a comedy for Paul Fox and best photography in a comedy for Gerald Packer, while Bell Media's Orphan Black collected five prizes, including best editing in a drama for Matthew Anas and best writing for Alex Levine.
Nowhere was The Book of Negroes' dominance more apparent than in the acting categories, where Lyriq Bent and Aunjanue Ellis won the Best Performance in a Leading Role for a drama or miniseries in the actor and actress sections, respectively. Shailyn Pierre-Dixon, also of The Book of Negroes, claimed the prize for best supporting actress.
While accepting his acting prize, the last to be presented that night, an emotional Bent thanked Book of Negroes director Clement Virgo for his vision for the series.
"I never expected any of this, so it really is a really great honour to receive this," Bent said.
Also in the performance categories, Schitt's Creek claimed both the female and male prizes for Best Performance in a Featured Supporting Role or Guest Role in a Comedic Series (awarded to Emily Hampshire and Chris Elliott, respectively).
In the directing categories, Virgo picked up the Best Direction in a Dramatic Program or Limited Series for his work on The Book of Negroes, while director Daniel Grou (aka Podz) took the Best Direction in a Dramatic Series for 19-2.
Elsewhere Sinking Ship Entertainment's Odd Squad won the Best Pre-School Program or Series prize, YTV's Numb Chucks was named the Best Pre-School Program or Series, and TVO's Paw Patrol won Best Direction in an Animated Program or Series.
Degrassi scooped four awards on the night – among them the awards for Best Writing in a Children's or Youth Program or Series and Best Children's or Youth Fiction Program or Series – while the The Best Visual Effects prize went to Vikings, and Best Photography in a Variety or Sketch Comedy Program or Series went to City's Sunnyside.
Refusing to walk away empty-handed after stealing the headlines on night one, Amazing Race Canada's Jon Montgomery won the Best Host in a Variety, Lifestyle, Reality/Competition prize, while Shaftesbury/Smokebomb digital series Carmilla emerged victorious in the Best Original Program or Series Produced for Digital Media – Fiction category. The Book of Negroes Interactive also picked up the Best Cross-Platform Project – Fiction prize.
The full list of winners is as follows: 
Best Achievement in Casting: 19-2 – School, Bravo! (Bell Media), Robin D. Cook, Andrea Kenyon, Randi Wells, Marissa Richmond
Best Achievement in Make-Up: Orphan Black – "Ruthless in Purpose, and Insidious in Method", Space Bell Media, Stephen Lynch, Sandy Sokolowski
Best Animated Program or Series: Rocket Monkeys, Teletoon, Corus Entertainment, Breakthrough Entertainment, Ira Levy, Peter Williamson, Joan Lambur, Mark Evestaff, Dan Abdo, Michael Feder, Jason Patterson, Mauro Casalese
Best Children's or Youth Fiction Program or Series: Degrassi, MTV, Bell Media, Epitome Pictures Inc., Linda Schuyler, Stephen Stohn, Sarah Glinski, Matt Huether, Stephanie Williams, Stefan Brogren
Best Children's or Youth Non-Fiction Program or Series: Finding Stuff Out, TVO, Apartment 11 Productions Inc., Jonathan Finkelstein, Jean-Louis Coté
Best Costume Design: The Book of Negroes, CBC, Entertainment One, Kate Carin
Best Cross-Platform Project – Children's and Youth: Gaming Show Interactive, Secret Location, Banger Films, DHX Media, Pietro Gagliano, Ryan Andal, Kathryn Rawson, Todd Feaver, Jesse Shamata
Best Cross-Platform Project – Fiction: The Book of Negroes Interactive, Secret Location, Conquerling Lion, Entertainment One, CBC, James Milward, Ryan Andal, Kathryn Rawson, Allen Martin, Damon D'Oliveira
Best Direction in a Children's or Youth Program or Series: Degrassi – "Finally, Part 2", MTV, Bell Media, Phil Earnshaw
Best Direction in a Comedy Program or Series: Schitt's Creek – The Cabin, Paul Fox
Best Direction in a Dramatic Program or Limited Series: The Book of Negroes, CBC, Clement Virgo
Best Direction in a Dramatic Series: 19-2 – "School", Bravo! Bell Media, Sphere Media Plus, Daniel Grou (aka Podz)
Best Direction in a Variety or Sketch Comedy Program or Series: 2015 Pan Am Games Opening Ceremony, Shelagh O'Brien
Best Direction in an Animated Program or Series: Paw Patrol – "Pups Save a Talent Show / Pups Save the Corn Roast," TVO (TVO), Jamie Whitney
Best Host in a Pre-school, Children's or Youth Program or Series: Finding Stuff Out – "Poop", TVO , Harrison Houde
Best Host in a Variety, Lifestyle, Reality/Competition, or Talk Program or Series: The Amazing Race Canada – Man I've Got a Big Butt, CTV, Jon Montgomery
Best Music Program or Series: We Day 2014, MTV, Bell Media, Sheila Sullivan, John Kampilis, Ken Katigbak
Best Original Music Score for a Program: The Book of Negroes, CBC, Entertainment One, Philip Miller
Best Original Music Score for a Series, Orphan Black – "Certain Agony of the Battlefield," Space, Bell Media, Trevor Yuile
Best Original Program or Series Produced for Digital Media – Fiction: Carmilla, Shaftesbury/Smokebomb
Jay Bennett, Steph Ouaknine, Kaaren Whitney-Vernon, Christina Jennings, Denise Darroch, Carrie Hayden
Best Performance by an Actor in a Featured Supporting Role in a Dramatic Program or Series: X Company – "Walk With the Devil / Into the Fire," CBC, Torben Liebrecht
Best Performance by an Actor in a Featured Supporting Role or Guest Role in a Comedic Series: Schitt's Creek – "Honeymoon / Surprise Party," CBC, Chris Elliott
Best Performance by an Actor in a Leading Role in a Dramatic Program or Limited Series: The Book of Negroes, CBC (CBC), Lyriq Bent
Best Performance by an Actress in a Featured Supporting Role in a Dramatic Program or Series: The Book of Negroes, CBC, Shailyn Pierre-Dixon
Best Performance by an Actress in a Featured Supporting Role or Guest Role in a Comedic Series: Schitt's Creek – "Our Cup Runneth Over / Carl's Funeral," CBC, Emily Hampshire
Best Performance by an Actress in a Leading Role in a Dramatic Program or Limited Series: The Book of Negroes, CBC, Aunjanue Ellis
Best Performance in a Children's or Youth Program or Series: Degrassi – "Give Me One Reason," MTV, Bell Media, Aislinn Paul
Best Performance in a Guest Role, Dramatic Series: Remedy – "Playing Doctor Conner," Global, Shaw Media,
Christine Horne
Best Performance in a Program or Series Produced for Digital Media: Saving Hope: Psychic Healing, Entertainment One, ICF Films, Michelle Nolden
Best Performance in an Animated Program or Series: Numb Chucks – "From Dusk Till Dawn," YTV, Corus Entertainment, Julie Lemieux
Best Performing Arts Program: King Lear, CBC, Melbar Entertainment Group, Barry Avrich, Susan Edwards, Anita Gaffney, Michael Levine
Best Photography in a Comedy Program or Series: Schitt's Creek – "Honeymoon," CBC, Gerald Packer
Best Photography in a Dramatic Program or Series: Orphan Black – "Certain Agony of the Battlefield," Space, Bell Media, Aaron Morton
Best Photography in a Variety or Sketch Comedy Program or Series: Sunnyside – "Top Hat," City, Rogers Media, D. Gregor Hagey
Best Picture Editing in a Comedy Program or Series: Schitt's Creek – "Surprise Party," CBC (CBC), James Bredin
Best Picture Editing in a Dramatic Program or Series: Orphan Black – "Newer Elements of Our Defence," Space Bell Media, Matthew Anas
Best Picture Editing in a Variety or Sketch Comedy Program or Series: Rick Mercer Report – "Episode Three"
CBC, Allan Maclean, Miles Davren
Best Pre-School Program or Series: Odd Squad, TVO, Sinking Ship Entertainment, J.J. Johnson, Blair Powers, Tim McKeon, Paul Siefken, Adam Peltzman, Matthew J.R. Bishop, Georgina Lopez
Best Production Design or Art Direction in a Fiction Program or Series: The Book of Negroes, CBC, Jason Clarke, Ian Greig, Robert van de Coolwyk, Brian Glaser, Renee Filipova
Best Sound in a Comedy or Dramatic Program or Series: The Book of Negroes, CBC, Derek Mansveldt, David Rose, David McCallum, Martin Gwynn Jones, Joe Mancuso, Steve Hammond, Erik Culp, Frank Morrone, Scott Shepherd, Alexander Rosborough
Best Sound in a Variety or Animated Program or Series: 2015 Pan Am Games Opening Ceremony
CBC, Antonio Montano, Michael Nunan, Andrew Roberts, Kent Ford, Mark Vreeken
Best Variety or Sketch Comedy Program or Series: Rick Mercer Report, CBC, Island Edge Inc., Gerald Lunz, Rick Mercer, Tom Stanley
Best Visual Effects: Vikings – "To The Gates!," History Channel Canada, Shaw Media, Dennis Berardi, Dominic Remane, Michael Borrett, Ovidiu Cinazan, Paul Wishart, Jeremy Dineen, Engin Arslan, Ken MacKenzie, Bill Halliday, Leann Harvey, Maria Gordon, Julian Parry
Best Writing in a Children's or Youth Program or Series: Degrassi – "Give Me One Reason," MTV, Bell Media, Matt Huether
Best Writing in a Comedy Program or Series: Schitt's Creek – "Honeymoon," CBC, Daniel Levy
Best Writing in a Dramatic Program or Limited Series: The Book of Negroes, CBC, Clement Virgo, Lawrence Hill
Best Writing in a Dramatic Series: Orphan Black – "Scarred by Many Past Frustrations," Space, Bell Media, Alex Levine
Best Writing in a Variety or Sketch Comedy Program or Series: Rick Mercer Report – "Episode Eleven"
CBC, Rick Mercer, Rick Currie, Greg Eckler, Chris Finn, Tim Steeves, George Westerholm
Best Writing in an Animated Program or Series: Numb Chucks – "As the Worm Turns," YTV, Corus Entertainment, Mark Steinberg