Playback Canadian Film & TV Hall of Fame: Peter Simpson
Simpson (1943-2007) was a major booster of Canadian talent during his 30-year career.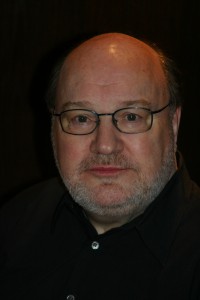 Peter Simpson was an old-school, larger-than-life movie mogul who succeeded on many fronts and boosted the careers of countless Canadian creatives in his 30-year-career.
But he may be best remembered for his gregarious personality, sure to enliven any industry function.
"People loved Peter on trade-forum panels because he was irreverent," recalls his wife, producer Ilana Frank. "He spoke his mind, which most people don't, and it was usually with an incredible sense of humor. There was no in-between with Peter. People either loved him or just didn't get him. But there was way more on the 'loved' side."
One of Canada's foremost film producers and distributors, Simpson gave key opportunities to many local talents in the 40-plus movies and TV shows he produced. His breakout success was slasher flick Prom Night (1980), directed by Paul Lynch, written by William Gray and starring Leslie Nielsen – all Canucks – with many roles filled by University of Toronto theatre grads.
Made for a reported $1.5 million, the movie yielded more than 10 times that (US$43 million in today's funds) at North American theatres, according to Box Office Mojo. It spawned three sequels, all produced or executive-produced by Simpson.
He even co-directed the spoofy Prom Night III: The Last Kiss (1989) with Ron Oliver, who had scripted the second installment. Simpson was giving Oliver his first shot at helming and helped him through the process. Oliver has since amassed more than 60 TV and film directing credits.
But that was all for Simpson's directing career. "Peter enjoyed the creative, but he ran a business and the creative was a by-product of it. Deal-making was the essence of his career. That's what he loved," says Frank.
Simpson was born in Port Glasgow, Scotland in 1943 into a working-class family, immigrating to Toronto at age 10. He was a natural entrepreneur who worked steadily since his teens. He moved up the ladder at ad agencies and in 1969 launched the pioneering Media Buying Services (MBS), which expanded to the U.S. and Europe.
Business trips to Los Angeles put him in direct contact with his true passion, the film industry. He transitioned to executive-producing with the well-reviewed family adventure feature The Sea Gypsies (1978), a sort of modern take on The Swiss Family Robinson. He formed Simcom Ltd. – working alongside brother Richard – to produce Prom Night.
He particularly enjoyed making Melanie (1982), a drama about a woman trying to regain custody of her son that featured his friend Burton Cummings as a faded musician. Simpson was a musician himself, copyrighting compositions since high school and writing songs for his soundtracks. He was nominated for a 1987 Genie Award for co-penning "Out of the Fire" for the thriller Bullies.
He and Frank met in the early 1980s when both were involved with the Toronto International Film Festival. Frank served in various production roles on his movies starting with the screamer Curtains (1983). They married in 1986.
In 1984, Simpson co-founded Norstar Releasing with Daniel Weinzweig and Tom Lightburn. Norstar became a major player in Canadian distribution, handling Teen Wolf and Room with a View (both 1985) and Dirty Dancing (1987). It also landed a valuable output deal with New Line Cinema that later went to Alliance Releasing.
According to an industry insider, Simpson balked at renewing the New Line deal because of the high cost the studio was demanding for Torch Song Trilogy, the 1988 adaptation of Harvey Fierstein's play about a Jewish drag queen. Simpson doubted the project's commercial prospects, and his instincts proved correct, as the movie grossed an underwhelming US$4.9 million (US$9.8 million today) at the North American box office. Of course, New Line went on to score blockbuster successes with the Teenage Mutant Ninja Turtles and The Lord of the Rings franchises.
His own Hollywood fiefdom
Simpson and Frank hired full-time writers to flesh out their concepts and come up with new ones – everything from horror to family films.
Fort Erie, Ontario native Scott Gemmill, now showrunner on NCIS: Los Angeles, was one of them. He came on board after they optioned his script Summer of the Savages.
"I was a kid who had taken one writing class at Sheridan College and they gave me a shot," Gemmill recalls. "It was like the old studio system with writers on retainer. [There was a stable of] actors and directors as well. Peter ran his own mini Hollywood fiefdom. We were going for popcorn movies. It was a great experience and showed he believed in the whole process. I wouldn't be doing what I do now if I hadn't had that support."
Noah Segal, co-president of distributor Elevation Pictures, was with Malofilm in 1994 when it signed a home-video deal with Norstar. That's when he met Simpson, whom he considers a mentor.
"He was like an Obi-Wan. He gave me great insight," Segal says. "We keep trying to find our next great auteur filmmaker, but we forget the entire business is built on Prom Nights. Peter didn't believe in film for film's sake. He believed in good movies. He wasn't afraid of art films, but he wasn't going to define himself by that. The entire Canadian business can take heed."
Simpson sold Norstar's library to Alliance in 1997 to focus on producing through Norstar Filmed Entertainment. His next feature, a collaboration with Scottish screenwriter Allan Scott, was actually quite art-house and the film of which he was most proud: 1998′s Regeneration, a $7 million ($9.7 million today) U.K.-Canada copro starring Jonathan Pryce as a doctor trying to heal psychologically damaged British soldiers during World War I. Despite a slew of award nominations here and in the U.K., the film took in only £206,000 ($644,000 today) on U.K. screens and far less in North America.
Frank later got into TV production with CTV drama The Eleventh Hour. In 2004, when Alliance Atlantis stopped financing it after season two, Simpson backed its final, Gemini Award-winning run. In 2007 he and Frank began working on the miniseries Would Be Kings, but he unexpectedly succumbed to lung cancer. As head of ICF Films, Frank has since collaborated with eOne on the hit series Rookie Blue and Saving Hope.
In 2004 the Academy of Canadian Cinema and Television bestowed a Special Award on Simpson for his "commitment to the production and distribution of films in Canada and his ongoing mentorship of young talents."