WGC Screenwriting Awards finalists named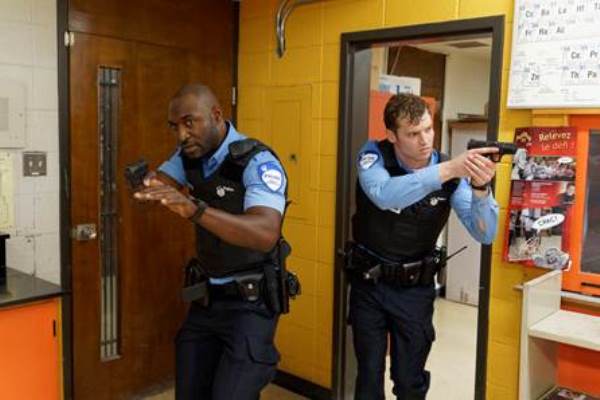 Among this year's finalists are three writers who penned 19-2 (pictured) episodes and Christina Ray for her work on End of Days, Inc.
The Writers Guild of Canada has named 24 scripts and 32 screenwriters who are up for prizes for the 20th edition of the WGC Screenwriting Awards, to be held on May 2 in Toronto.
Nominees were selected from across eight categories. In the Children's category, Evan Thaler Hickey is nominated for a Numb Chucks script, with Charles Johnston up for a prize for his work on Odd Squad and David Elver nominated for an episode of Pirate Express. Josh Freed is nominated in the Documentary category for his script for Deluges by Data, with Mina Shum up for her work on Ninth Floor.
Three projects earned nods in the Feature Films category: A Christmas Horror Story, written by James Kee, Sarah Larsen, Doug Taylor and Pascal Trottier; End of Days, Inc. written by Christina Ray; and The Saver, penned by Wiebke von Carolsfeld. In the MOW or Miniseries category, the first episode of The Book of Negroes received a nomination (story by Lawrence Hill, teleplay by Clement Virgo), along with The Gourmet Detective, written by Becky Southwell and Dylan Neal, and Kept Woman, penned by Doug Barber and James Phillips.
James Nadler was nominated for Bob! The Slob in the Shorts and Webseries category, along with Michael Konyves for Goldfish. Anita Kapila and Marvin Kaye received nominations for two separate episodes of Mr. D in the TV Comedy category, with Amanda Walsh also receiving a nod for her work on an episode of Schitt's Creek. Jesse McKeown, Nikolijne Troubetzkoy and Bruce M. Smith all received nominations for three separate episodes of 19-2 in the TV Drama category. Mark Ellis and Stephanie  Morgenstern also received a nomination in the category for an episode of X Company.
Finally, in the Tween and Teens category, Jennica Harper was nominated for her work on Some Assembly Required. Cole Bastedo and Jennifer Siddle were also nominated for their work on a separate episodes of Some Assembly Required. Alice Prodanou also received a nod for her work on The Stanley Dynamic.
A number of special awards will also be presented at the event, including the WGC Showrunner Award, the Alex Barris Mentorship Award and the Sondra Kelly Award.