James Stewart: the next dimension
From Playback magazine: Stewart's Geneva Film Co. has pushed high-tech Canadian storytelling into the spotlight. Now he's strapping his VR goggles on for the next adventure.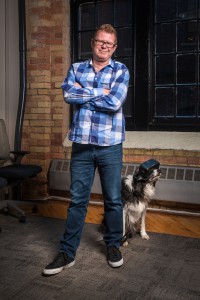 Lots of people ask James Stewart if he thinks 3D in film is just a gimmick – to which he often laughs. Filmmaking, he says, is inherently full of gimmicks. But 3D, which he defines as including everything from traditional 3D films to gesture control and virtual reality (VR), is, he thinks, the most exciting.
After all, the writer, director, producer and founder of Geneva Film Co. has built much of his career thinking in the third dimension. With a new virtual reality/3D feature film in the works, two 3D shorts on the festival circuit, not to mention a bevy of commercial projects coming down the pipes, he's well poised to take advantage of what he hopes will be a huge boom in the market.
VR, he says, is the natural next step from 3D cinema, which itself has quickly ballooned to be a $1.4 billion North American market, according to the Motion Picture Association of America.
Major companies are racing into the space, including Facebook, Samsung, Sony and Google, while publishers like HBO, the New York Times and PBS are trying their hands at creating immersive content. Consultant firm Digi-Capital expects the industry (including headset devices and content creation) to hit $30 billion by 2020.
The nascent nature of the industry doesn't bother Stewart – in fact, it's kind of his sweet spot.
"I'm very comfortable doing things I haven't done before," he says.
He's been doing it most of his career. Stewart was shooting on digital in the '90s, well before its boom in the early '00s. In 2012, he created what he says was the world's first 3D gesture-control game for Samsung combining two technologies in a then-unprecedented way. And currently, he's working on a projection mapping project for Toyota in Japan, something he says few firms in Canada have explored.
But it's been his work with 3D filmmaking that's garnered him the most attention. He began working with 3D in 2004, five years before James Cameron's Avatar hit the big screen and the medium suddenly became in vogue again. His first project, a commercial shoot for Toyota, gave way to another 3D project for Sprint, which gave way to another for Lexus, and before long, Werner Herzog's people were reaching out to Stewart for help on the 2010 documentary Cave of Forgotten Dreams.
Stewart advised the production team on how to develop the 3D aspect of the film, a journey through some of the world's oldest cave paintings, for its premiere at the Toronto International Film Festival, and then designed the 3D experience for the theatrical release.
He's since become one of Canada's foremost experts on the topic, and has been asked to speak at conferences around the world, including TED and the Cannes Lions Festival of Creativity six times.
With some of the highest-calibre speakers in the world, being invited to speak at Cannes so many times is a rare and significant honour, notes Mary Maddever, publisher of Playback and strategy magazine, as well as a member of the Canadian Cannes Lions Board.
More significantly, Stewart's appearance marked the rare collision of technological achievement and Canadian success on the Cannes stage.
"The types of speakers are intended to draw audiences from around the world – it's rock gods, designers, celebrities," she says. "They're legitimately considered the very top experts in their field. It's pretty amazing that he's been chosen to speak there."
Stewart is adept at connecting with online crowds too using his Twitter account to connect with over 100,000 followers in a constant stream of filmmaking, animation and innovation commentary.
So how did he get here? His career trajectory has seen him develop his skill set through a combination of commercial and creative work. Advertisers are often keen to engage consumers in new ways through technology and Stewart is their Sherpa. Upwards of 90% of his revenue comes from commercial clients, though he expects his creative projects to start paying out more in the coming years, he says.
With lucrative commercial pursuits fuelling the creative side of Geneva, Stewart says he gets the best of both worlds and, best of all, the opportunity to try all the new toys. In recent years, he's experimented with drone cameras, 3D printing and, via the aforementioned Toyota campaign, projection mapping (or "special augmented reality"), in which objects are turned into a display surface for video projection.
On the creative side, he's shooting a pilot called Chateau Laurier, with funding from BravoFact, set in the hotel of the same name. Set shortly after its founder died on the Titanic, he hopes to turn Chateau Laurier into a multi-platform TV show.
He says his commercial work has had a critical impact on his creative work, creating the time and resources to learn to perfect how certain technologies work – something rarely afforded filmmakers in the indie space.
"He's not afraid to attach himself to [commercial] projects, and I think they probably end up benefiting both worlds," says Magali Simard, manager of film programmes and programmer at TIFF. "He's able to create content that's really advanced for international corporations, and he brings that expertise to his artistic [projects]."
It also gives his work a commercial viability – she points to his short film Foxed (filmed in 3D) as a prime example. As opposed to a short done as an exercise in creativity, Foxed has been executed as a proof-of-concept and has great potential for theatrical success, she says. It's as good – or better – than many of the full-length animated stop-motion features on the market, she says and it even inspired TIFF to put on a 3D event bringing together speakers from around Toronto.
She's not the only one impressed. The 3D-animated stop-motion film about a young girl kidnapped by foxes and made to toil away in underground mines, has already garnered critical acclaim, picking up awards at festivals around the world and debuting in the top spot in its category on iTunes, he says. When the video was posted to Vimeo, it nabbed more than 100,000 views in a week.
The short film's quality and momentum caught the eye of frequent David Cronenberg collaborator Martin Katz, founder and producer at Prospero Pictures. Katz and Stewart are now developing Foxed into a feature film, with financing underway and a plan for theatrical release in 2017. A full VR experience is in the works to accompany a theatrical run.
Katz says he was attracted to the project because of the strong characters, the compelling setting and the great dramatic tension in the short. "James is a visual genius," says Katz. "I think he sees the world in 3D."
Katz adds VR is set to change the way we tell stories, but Stewart's strong understanding of technology, and the use of tech to create commercial viability will help him lead the charge.
And because Canadians have historically excelled on the international stage in documentary and short films – two formats that work well in VR – Simard says Canada is well-poised to be a leader in the space globally.
Of course, there is no guarantee 3D, either in VR or cinematic, can keep its place in the film world: home use of 3D TVs has tapered off, fewer films were released in the format in 2015, marking a two-year decline and it's still early days to see if consumers will adopt VR home headsets.
And like 3D, which has seen studios skirting stereoscopic filming in favour of post-production conversion to save costs, Stewart says VR runs the same risk of a sub-par experience born of tight budgets. But he isn't worried – there is always something new around the corner.
"We're probably going to see a five-year run for VR," he says. "And that's okay. For a century, we shot movies on films, and we've gone from film to digital to VR to gesture control, etc. in a very short amount of time. In the end, digital was a stepping stone to 3D, and 3D is a stepping stone to VR, and VR is a stepping stone to the next thing."
Photo credit: Matt Forsythe