NFB to coproduce A Better Man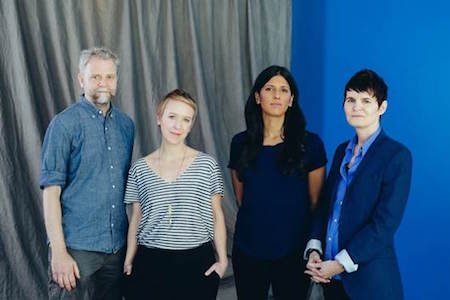 Production is underway in Toronto on the doc from co-directors Attiya Khan and Lawrence Jackman.
The National Film Board of Canada (NFB) is on board as a coproducer for the documentary A Better Man from Attiya Khan (pictured, third from left) and Lawrence Jackman (far left).
Announced in 2014 when actor/director Sarah Polley signed on as exec producer during a crowdfunding campaign, the doc follows Khan – a counselor and advocate for survivors of domestic violence – as she attempts to understand why an ex-boyfriend was abusive and whether he can be accountable for his actions.
Khan is a first-time director and has teamed up with veteran helmer Lawrence Jackman. She has interviewed her ex for the film, which will also feature discussions with friends, colleagues and loved ones who share memories of Khan's relationship with the man and give perspective on what their lives have become since.
Production on A Better Man is underway in Toronto with Christine Kleckner (pictured, second from left) producing for Intervention Productions and Justine Pimlott (far right) producing for the NFB's Ontario Studio. Exec producers are Polley, Kathy Avrich-Johnson, Janice Dawe and the NFB's Anita Lee.
The NFB will release and distribute the doc in early 2017.
Khan's Indiegogo campaign attracted support from more than 1,000 donors from 30 countries including musician Leslie Feist, author Margaret Atwood, labor unions and experts on men's use of violence. The doc also received a Canadian Media Fund grant and funding from the Shaw Media Hot Docs Funds.
- from realscreen