Cameras roll in Colombia on Sundowners
The feature from writer/director Pavan Moondi will shoot in Santa Marta, Colombia before production moves to Toronto this spring. (Pictured from L to R: Moondi, Phil Hanley, Luke Lalonde.)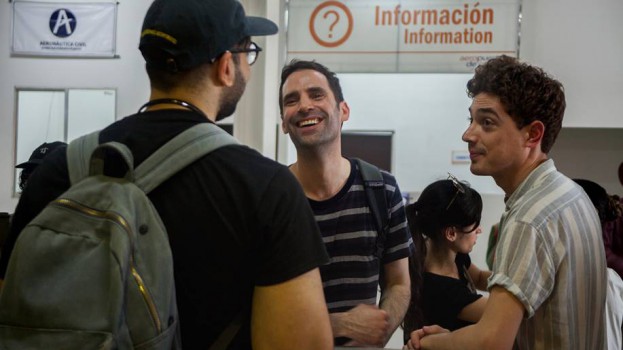 Production is underway in Santa Marta, Colombia on comedy feature Sundowners from writer and director Pavan Moondi (Diamond Tongues).
The $1 million film is shooting in Colombia until early March, when the production team and crew will return to complete filming in Toronto by the end of March.
Starring Tim Heidecker and Phil Hanley in the lead roles, Sundowners also features Born Ruffians lead singer Luke Lalonde, Cara Gee, Nick Flanagan, Nick Thorburn, and Leah Goldstein.
The film is produced by January Films' Julia Rosenberg, Carousel Pictures' Tyler Levine and Daylight on Mars Pictures' Brian Robertson. Executive producers on the project are Jorge Forero, Paula Perez, and Diana Bustamante of Colombia's Burning Blue.
Sundowners tells the story of a struggling filmmaker who goes to Mexico to shoot a destination wedding, scamming his boss into thinking his best friend is a photographer in the process.
Made with the financial support of Telefilm Canada, the Canadian production is due to be complete by summer of 2016. The film is being distributed by Search Engine Films in Canada.
Moondi's last film, Diamond Tongues, made its world premiere at the Slamdance Film Festival in January 2015. The film landed U.S. distribution via Factory 25 and is distributed in Canada by Mongrel Media.
Pictured from left to right: Pavan Moondi (director), Phil Hanley, Luke Lalonde
Photo credit: Jesus Lora