ACCT to honour Eugene Levy, Catherine O'Hara
The Academy Legacy Award from the ACCT will be presented to the actors at an event in Beverly Hills on Feb. 25. (Levy and O'Hara pictured in Schitt's Creek.)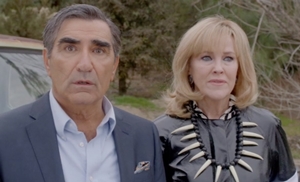 Eugene Levy and Catherine O'Hara have been named the recipients of the Academy Legacy Award, the Academy of Canadian Cinema and Television announced Tuesday.
The award is meant to recognize the recipient's dedication to bringing international acclaim and attention to Canadian talent in film, television or digital media.
"With decades of brilliant work behind them and many more to come, Eugene Levy and Catherine O'Hara stand among the world's finest comic actors," said Academy chair Martin Katz in a statement. "Though they are not an official duo, they have played together so often and so well, that we thought it only fitting to honour them together." The two actors will be presented with their awards at a special event at the Four Seasons Hotel in Beverly Hills on Feb. 25.
O'Hara and Levy currently play a husband and wife on CBC comedy Schitt's Creek, which is up for 13 Canadian Screen Awards this year. O'Hara and Levy also collaborated with Christopher Guest four times on mockumentary films, including Waiting for Guffman, Best in Show, A Mighty Wind and For Your Consideration. O'Hara and Levy also both performed with Toronto's Second City Theatre, and later teamed up with other Second City alumni to create SCTV.
Overall, Levy has appeared in more than 60 feature films to date, including seven that passed the $100 million mark at the box office. His credits include Bringing Down the House, Cheaper by the Dozen 2, Father of the Bride Part 2 and American Pie. Throughout his career, he has won a Grammy Award, a New York Film Critics Award and two Emmys.
O'Hara's film credits include lead and supporting roles in films such as Beetlejuice, Home Alone, Home Alone 2: Lost in New York, Away We Go, The Right Kind of Wrong and The Life Before This. She has won four Emmy Awards and was nominated for four more for her writing on SCTV. O'Hara also earned Primetime Emmy, Satellite and Screen Actor Guild Award nominations for her role in HBO's Temple Grandin.