In brief: Hard Rock Medical renewed, Canadians in Miami
Production on TVO and APTN's Hard Rock Medical is set to move to another Northern Ontario city, plus Neve Campbell (pictured) is presented an ACTRA prize.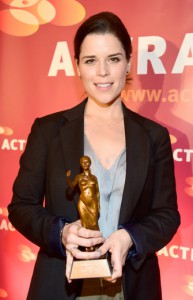 Hard Rock Medical lands season three greenlight 
Distinct Feature's Hard Rock Medical has been renewed for a third season, with production set to move from Sudbury, ON to the city of North Bay. The half-hour medical school drama airs on TVO and APTN, and was created by Smith Antonio and Derek Diorio, who also serves as executive producer and director on the series. Hard Rock Medical receives financial support from the North Ontario Heritage Fund Corporation. The series also airs on Australia's NITV.
Canadian films to screen at Miami International Film Festival
This year's edition of the Miami International Film Festival will screen six Canadian films. Deepa Mehta's Beeba Boys and Guy Édoin's Ville-Marie will both screen in the Marquee section, while Anne Émond's Les Êtres chers will appear in the Cinema 360° section. Cordell Barker's Si j'étais le bon Dieu is set to feature in the Short Competition section and Ron Chapman's The Forbidden Shore will have its world premiere in the Reel Music section. On the closing evening, Andrew Currie's The Steps will make its U.S. premiere in a gala screening. The festival runs from March 4 to 13.
Neve Campbell presented with ACTRA award
Neve Campbell was presented with the 2016 ACTRA National Award of Excellence on Sunday Jan. 31 at the Beverly Hilton in Los Angeles. The award for outstanding contributions to Canada's entertainment industry has previously been won by Kiefer Sutherland, Sandra Oh, Bruce Greenwood and Jason Priestley.
Markham Street Films names cast for Level 16
Toronto-based prodco Markham Street Films has revealed the cast for its upcoming feature Level 16 ahead of taking the project to the Berlin Film Festival. Devery Jacobs (Rhymes for Young Ghouls) and Imogen Waterhouse (Nocturnal Animals) will star in the film along with Sara Canning. Production is slated to start this summer, with screenwriter Danishka Esterhazy set to direct the project.
Tricon inks copro deal with French producers
Toronto-based prodco Tricon Kids & Family has secured an international copro agreement with Paris-based studios Savoir-Fer and REAZ for Me, Myself & My Selfie, a new CGI-animated comedy short-format series. Read more about the copro agreement here.