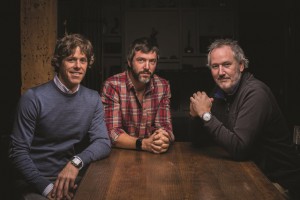 Temple Street Productions has reorganized and rebranded its operations under the new moniker Boat Rocker Media, alongside launching several new business divisions.
Boat Rocker Media will be the parent company for Temple Street and several other new business divisions, including Boat Rocker Animation, a new line of business accompanied by the launch of a new animation studio in Toronto.
Also housed under Boat Rocker Media is: Boat Rocker Studios, Boat Rocker Rights, Boat Rocker Ventures, Boat Rocker Brand and Boat Rocker Animation. David Fortier and Ivan Schneeberg will serve as co-executive chairmen of Boat Rocker Media, with John Young named CEO of the new entity. The company will continued to be headquartered in Toronto, with offices in New York and Los Angeles. Boat Rocker Studios as a brand was first launched by Temple Street in 2013, to focus on original digital content.
Now, Temple Street Productions and Boat Rocker Digital will operate under the Boat Rocker Studios umbrella; Temple Street Productions, with newly formed drama, alternative and kids and family divisions, will continue to produce television series. Boat Rocker Digital will focus on original, digital-first global media properties, such as apps, console and mobile games, VR and video content. In a release, Temple Street said it expects to soon announce new content creation brands and partners under Boat Rocker Studios.
Boat Rocker Rights, meanwhile, will be the home of the company's global content distribution, sales and licensing team. Boat Rocker Ventures will focus on the acquisition of and investment in consumer-facing entertainment IP and technology. The division will handle direct investments, as well initiating partnerships with innovators to build entertainment properties. It will also support the overall strategic direction and corporate development of the company.
Elsewhere, Boat Rocker Brands will focus on creating strategies on how to find revenue streams outside of traditional content monetization for high-potential entertainment brands. The division will firstly focus on how to further develop and expand the Orphan Black, The Next Step and Lost and Found Music Studio properties.
Finally, the newly formed Boat Rocker Animation will live in a new 5,000 square-foot animation studio in Boat Rocker's headquarters in Toronto. The facility will be a full service animation studio focused on original 2D and 3D animation content across all genres for all platforms. The studio is already slated to start work on Dot and Top Wing from Toronto-based animation prodco Industrial Brothers. Temple Street announced in December it had took a "significant" minority interest in Industrial Brothers.
The rebrand and reorganization of Temple Street Productions under Boat Rocker Studios comes about six months after Fairfax Financial Holdings took a majority stake in the production company. The terms of the deal were not disclosed, but the capital was intended to help Temple Street expand its business on the content and distribution sides as well as increase its presence in the global marketplace, managing director John Young told Playback Daily at the time.
Image: From left to right: Boat Rocker Media co-executive chairmen David Fortier and Ivan Schneeberg, CEO John Young. Photo: Matt Forsythe