ACCT names Golden Screen film winner, TV finalists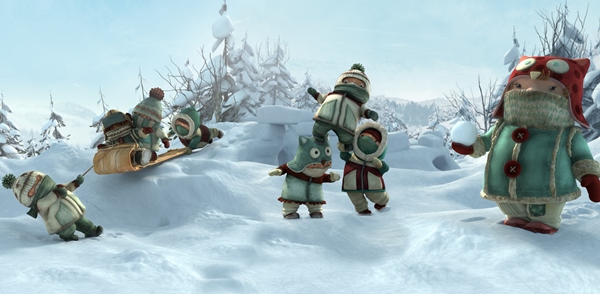 Snowtime! (pictured) is the winner of the Golden Screen Award for Feature Film, while the winners of the two TV-focused Golden Screen Awards will be revealed on March 13.
The Quebec animated film Snowtime! (La Guerre des tuques 3D) has been named the winner of the 2016 Cineplex Golden Screen Award for Feature Film by the Academy of Canadian Cinema and Television.
In 2015, Snowtime! earned $3,359,425 nationwide at the box office. The Golden Screen Award (which was previously called the Cineplex Golden Reel Award) is presented annually by the ACCT to recognize the Canadian film that earned the most at the domestic box office that year. Snowtime! is a remake of the 1984 Quebec cinema classic of the same name, with Jean-François Pouliot and François Brisson serving as directors. Snowtime! is produced by Marie-Claude Beauchamp of CarpeDiem Film and TV, and is produced in association with animators Studio Singing Frog.
The film is distributed by Les Films Séville/Entertainment One in Canada, and is set for a Canada-wide release outside of Quebec on Feb. 12. Snowtime! will also be released stateside by Shout! Factory, with the English-language version of the film to be voiced by Sandra Oh, Angela Gallupo, Lucinda Davis, Sonja Ball, Don Shepherd, Jenna Wheeler, Heidi Lynne Weeks, Elizabeth MacRae, Holly Gauthier and Ross Lynch.
The ACCT also named the finalists for the Golden Screen Awards in the categories of TV Drama/Comedy and Reality Show. The TV-focused Golden Screen Awards, introduced last year, are presented to the most-watched Canadian comedy/drama and the highest-rated reality series.
The finalists in the Canadian Drama/Comedy category are The Book of Negroes (eOne, Conquering Lion Pictures, Out of Africa Entertainment), Corner Gas: The Movie (Prairie Pants Productions), Murdoch Mysteries (Shaftesbury), Rookie Blue (Entertainment One and ICF Films) and Saving Hope (Entertainment One and ICF Films). The finalists in the Reality Program category are The Amazing Race Canada (Insight Productions), Big Brother Canada (Insight Productions), Canada's Smartest Person (Media Headquarters), Dragons' Den (CBC) and MasterChef Canada (Proper Television). The finalists are the five top-rated programs in each category, according to Numeris data covering the 2014-2015 broadcast year.
The winner of the television Golden Screen prizes will be revealed at the Canadian Screen Awards broadcast gala on March 13, with Snowtime! also set to receive its prize at the event.