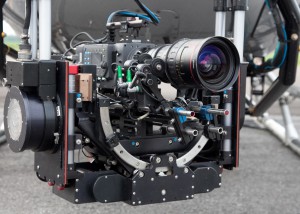 After nearly 12 years away from the camera business, William F. White is to launch a new camera department focused on providing camera rentals and other related technical services.
Set to launch in May, Whites Camera will be overseen by Rick Perotto, VP, business development and GM Whites Toronto, and is expected to be running at full capacity by mid-2016.
"The opportunity for us is really to package cameras with our other core services," said Comweb Corp. chairman and CEO Paul Bronfman. Whites provides lighting, package trucks, grip, custom camera cars and specialty equipment to local and foreign productions.
Whites' latest move comes as production in Canada is booming as a dramatically lower Canadian dollar against the U.S. greenback draws interest from foreign producers, alongside a strong domestic production market.
Bronfman says the decision to re-enter the camera business, which the company left in 2005, was one based on the lower cost of equipment today. In the mid-Oughts, he explained, "we were competing against the manufacturers."
Brandon Cooper has been named the department's director of client services and operations, while Trevor Huys will serve as director, technical services and operations. Both previously worked at Toronto boutique rental house Dazmo Camera, with Cooper as GM of business development and Huys as CTO.
The new camera department will be based out of Whites Toronto office.
The new division is one of several launched or acquired by Whites over the past three years. In September of 2015, the company launched a live events division, headed up by Steve Morrison. Whites also acquired Vancouver-based location equipment supplier Parallel Rentals in April 2015, as well as buying Telescopic Camera Cranes Ltd in July 2013, which was later rebranded as Whites Telescopic Camera Cranes.