Mohawk Girls goes to season four
The latest season of the comedy/drama will include eight half-hour episodes, with production set to start late this spring or early summer.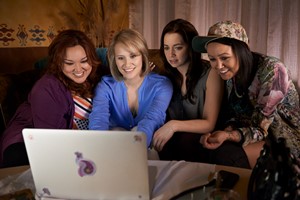 APTN has greenlit Rezolution Pictures' comedy/drama Mohawk Girls for a  fourth season, with production on the next batch of eight, half-hour episodes set to start in the late spring or early summer.
As with previous seasons, Mohawk Girls will be shot in Montreal and in the Kahnawake Mohawk Territory in Quebec. The latest season of the show is scheduled to air on APTN this fall. Mohawk Girls is written by Cynthia Knight and Tracey Deer, and follows the lives of four Mohawk woman as they navigate life in their 20s while living on the Kahnawake Mohawk reserve. The series stars Jenny Pudavick, Brittany LeBorgne, Heather White and Maika Harper.
The greenlight follows on the heels of the announcement that the third season of the series received its first Canadian Screen Award nominations in the categories of best comedy series, best direction in a comedy, best writing in a comedy and best performance by an actress in a comedic role. Executive producers/producers Christina Fon and Catherine Bainbridge told Playback Daily they hope the awards buzz, which sees the show go up against heavy-hitters like Schitt's Creek, will help expand its audience further in the fourth season.
"I think it takes a few seasons before a show can actually make an impact on its audience, and having it renewed for a fourth season will just give us the opportunity to let Canadian viewers fall in love with all the characters and the show," Fon told Playback Daily. While seasons one and seasons two of the series also aired on OMNI, APTN was the sole broadcaster for season three and will be again for the upcoming season four.
Rezolution Pictures' Bainbridge, Fon and Linda Ludwick serve as both producers and executive producers on Mowhawk Girls. Ernest Webb serves as executive producer. U.S. distributors GRB Entertainment handling the global sales representation of the series.