Secret Location unveils latest VR project at Davos
The Toronto-based agency is at The World Economic Forum with Project Literacy and will tour it internationally following the summit.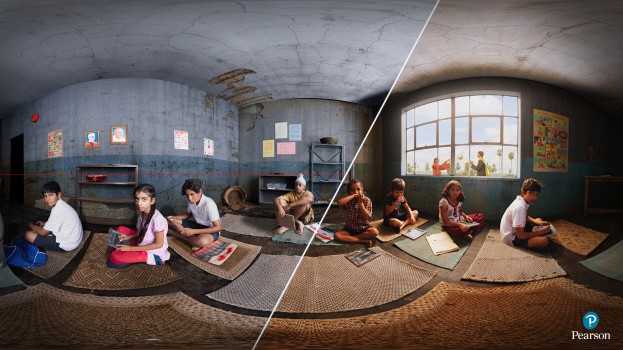 Toronto-based digital content studio Secret Location is making its debut at the World Economic Forum in Davos-Klosters, Switzerland with the launch of a VR project meant to highlight global literacy problems.
The company is today revealing three new virtual reality experiences (entitled G is for Gender & Inequality, B is for Bloodshed and M is for Malnutrition) as part of its Project Literacy: The Lives Unseen installation at the four-day event in Davos-Klosters, Switzerland. Produced in collaboration with education company Pearson and global design firm IDEO, Project Literacy presents a trio of VR scenarios as seen from the perspective of an illiterate person.
The first puts viewers in the position of an Indian girl named Sandhya, showing how her gender impacts her confidence when trying to learn. The second features a young British man who becomes violent after he is unable to complete a simple job application, while the third is seen from the perspective of American mother Terri, who is unable to read food labels and recipes in order to provide her family with the nutritious food they require.
Each of the VR experiences is based on interviews conducted by IDEO and features an accompanying monologue from an illiterate person.
Speaking to Playback Daily from Davos, Eric Shamlin, VP, managing director and executive producer of Secret Location's L.A. office, said there is huge opportunity for VR in the educational realm.
"I think VR does something that other mediums don't really do quite as well. That sense of presence – it's an empathy machine. A lot of what has stalled education is that it's hard to relate to problems that you don't understand yourself," Shamlin said. He also noted the exposure the World Economic Forum provides, for both Secret Location and VR as a form, is "significant."
The World Economic Forum runs from Jan. 20 to Jan. 23, after which the installation will appear in a number of other cities throughout 2016, including London, U.K. and several U.S. cities.
Updated: 10:25 a.m Jan. 20