Josie Crimi joins Scott Brothers Entertainment
Crimi (pictured) was most recently with General Purpose Entertainment.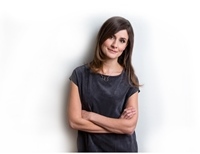 Factual producer Scott Brothers Entertainment has hired Josie Crimi as executive VP of development and production.
She will oversee day-to-day operations in the development and production departments. Her role involves providing leadership and direction to both departments while taking an active role in production and development strategy.
Crimi is formerly the VP of development and production for General Purpose Entertainment. Her credits include Rebel Without a Kitchen, Dining Invasion and The Fix. She has also worked as a producer and show runner for networks such as Food Network Canada, Slice, HGTV Canada and W Network.
Based in Las Vegas and Toronto, the company was founded by Property Brothers stars Drew and Jonathan Scott. This November, W Network aired the 100th episode Property Brothers, which is currently in its fifth season. Scott Brothers Entertainment's other original productions include Brother v. Brother and Property Brothers: At Home on the Ranch, both for HGTV. The siblings will also be releasing their first book, Dream Home, in April 2016.
- From Realscreen, with files from Julianna Cummins