Go Button Media's Mom Vs. Matchmaker headed to MyxTV
Daniel Oron and Natasha Ryan on the first show from their Toronto-based prodco and the market for "family-friendly, slightly trashy viewing." (Series host Carmelia Ray pictured.)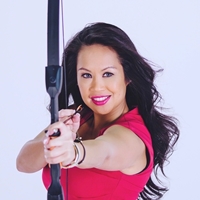 Post-production is underway on Toronto-based Go Button Media's first commissioned project, Mom Vs. Matchmaker, an unscripted series backed by a dating service brand partner the producers hope will be ripe for co-viewing.
The first season of the series includes six, half-hour episodes that will bow on U.S. channel Myx TV on May 3. Mom Vs. Matchmaker has also been picked up by Toronto-based Stornoway Communications, which operates digital specialty networks ichannel and The Pet Network, although an air date for the series in Canada has not yet been set. Myx TV, an Asian-American entertainment-focused channel carried by Comcast, Time Warner and DIRECTTV, is the commissioning broadcaster on the series. The series is executive produced by Go Button Media's Daniel Oron, Natasha Ryan and Miguel Santos, general manager of Myx TV.
Mom Vs. Matchmaker follows professional matchmaker Carmelia Ray as she tries to find potential suitors for her clients, while going head-to-head with their mothers. Ryan said the goal was to create a dating show for multi-generational audiences – what she called "family-friendly, slightly trashy viewing."
"We wanted family, fun viewing. I used to watch reality shows with my grandmother weekly and I wanted something that would offer that opportunity without being overly salacious or dirty," Ryan told Playback Daily. Mom Vs. Matchmaker appealed to Myx TV because of its co-viewing potential, as well as balancing the network's desire for comedy and drama entertainment, the producers said.
In addition to tax credits and licence fees, Mom Vs. Matchmaker's under-$1 million budget was backed by brand sponsor It's Just Lunch Canada. The dating service aims to connect busy professionals by setting them up for quick one-on-one meetings. As part of the show, matchmaker Carmelia Ray will go into the It's Just Lunch Canada offices for match meetings and brainstorms with the staff, and will also use the It's Just Lunch website or database to match her singles up with potential suitors.
The show was originally pitched as a branded entertainment project, and It's Just Lunch Canada joined the project shortly after it was sold to Myx TV. The producers also developed the series so it could be easily formatted for international markets, a strategy they plan to deploy for future titles in their catalogue.
Prior to launching Go Button Media, Oron held a number of roles at various production companies, including VP development and supervising producer at Peacock Alley Entertainment and showrunner at Summer Hill Media. Ryan has worked as a showrunner, producer and director with a number of production companies, including Buccaneer Media, Summerhill Media and Force Four.
Correction: An earlier version of this story indicated the premiere date on MyxTV for Mom VS. Matchmaker was May 8. The premiere date is in fact May 3.