In brief: Int'l festival updates, Between season 2
Production begins on Between (pictured) season two, festival updates for Rotterdam, Sundance and Berlin and more news from the week to date.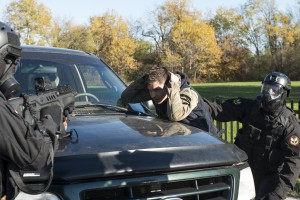 A24 names new international division head
New York-based A24 announced Tuesday Sasha Lloyd has joined the production and distribution company to lead its international division. In her new post, she will oversee all film and TV distribution and business development for the international marketplace. Prior to joining A24, Lloyd was a founding partner at investment banking firm GHL & Company, leading the $750 million recapitalization of Summit Entertainment.
Tealpower
A fundraiser is being held in Toronto Monday, Jan. 25 to remember TV publicist Alison Salinas, who passed away in November 2015 from cancer. Salinas worked in Canadian TV publicity for over 10 years at major broadcasters such as Bell Media and as a freelance publicist. Details at Tealpower.ca.
Between season 2 goes into production
Production is underway on the second season of survivalist thriller series Between for City and Netflix. The second season of the Toronto-shot show will air first on City before heading to Shomi, though no details have been announced about when the second season will roll out on Netflix. The 6 x 60-minute season stars Jennette McCurdy (iCarly) and Jesse Carere (Skins), along with new cast Steven Grayhm (The Family Tree) and Mercedes Morris (Forest Fairies). Between is produced by Don Carmody Television (DCTV) and Mulmur Feed Co, and the series is executive produced by Don Carmody, David Cormican, Michael McGowan, and Naveen Prasad of Elevation Pictures. Rick Bota and McGowan will each direct three episodes of the upcoming series, while Sam Egan will serve as showrunner.
International Film Festival Rotterdam
International Film Festival Rotterdam (IFFR) has announced the lineup for its Tiger Awards Competition, with two Canadian projects among the short film program's lineup. Loïc Darses' Elle pis son char and Saïto Daïchi's Engram of Returning will both screen at the Holland festival, which runs from Jan. 27 to Feb. 7. Ingrid Veninger's He Hated Pigeons will appear in the festival's Voices section, while eOne also announced that Endorphine will feature in the same program.
Sundance Film Festival
Montreal-based doc-maker Mila Aung-Thwin has been chosen as a jury member for Sundance's World Cinema Documentary program. Aung-Thwin is the co-founder of EyeSteelFilm and his credits include Taqwacore: The Birth of Punk Islam and Emmy-winning 2009 doc Last Train Home. The Utah festival runs from Jan. 21 to 31.
Berlin International Film Festival
NFB animated short Blind Vaysha from Theodore Ushev will screen in competition at the 66th Berlin International Film Festival. Produced by Marc Bertrand and executive producer Julie Roy, the film will make its world premiere in the Generation – Short Film section. The film tells a story of a girl whose left eye sees only the past, while her right sees the future.
Avant les rues ("Before the Streets") from young Canadian filmmaker Chloé Leriche will also screen at the festival in the Generation program for young filmmakers. Leriche's doc, which is making its world premiere, tells the story of life on the Atikamekw reserve in Quebec.