ACCT to honour Martin Short
The Academy of Canadian Cinema and Television will present the comedian with a Lifetime Achievement Award.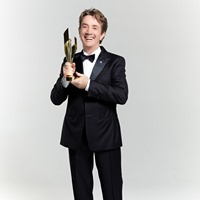 Martin Short will be presented with the 2016 Lifetime Achievement Award at the Canadian Screen Awards gala in March, the Academy of Canadian Cinema and Television announced Tuesday.
The comedian hosted the first two editions of the Canadian Screen Awards broadcast galas, following the Academy's decision to combine and rebrand the Genie and Gemini awards in 2013. Last year's broadcast gala was hosted by Andrea Martin.
Short was a regular on SCTV and Saturday Night Live in the early '80s, winning critical acclaim for his impersonations and characters. He has since gone on to appear in a number of TV series, specials and feature films, including Damages, How I Met Your Mother, Mulaney, The Cat in the Hat Knows A Lot About That, Three Amigos, Innerspace and Inherent Vice.
He has received five nominations from the Academy throughout this career, and won the Academy's Earle Grey award for acting in 1995. He also won a Tony Award for his part in the Broadway production of Little Me. He is also a member of the Order of Canada.
The 2016 CSA gala, to be held on Mar. 13, 2016, will be hosted by comedian Norm Macdonald and produced by Barry Avrich and Toronto-based production company Frank Content. Others set to receive special Academy awards this year are Karen Walton, former CBC exec Mark Starowicz, CFC's Ana Serrano, producer/director Ivan Fecan, charitable organization Performing Arts Lodges (PAL Canada) and satirical sketch show This Hour Has 22 Minutes.