The Forbidden Room named best Canadian film by TFCA
Directors Guy Maddin and Evan Johnson were presented with the prize at a gala dinner held Tuesday at The Carlu in Toronto.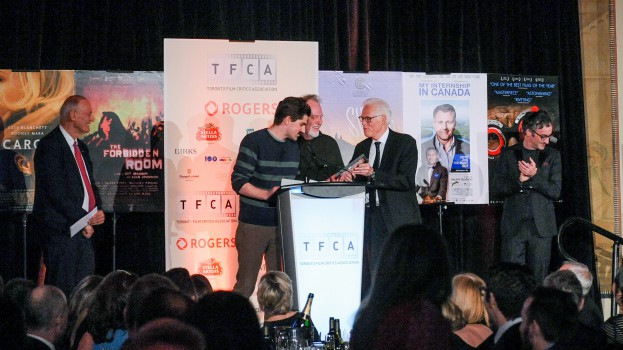 Guy Maddin and Evan Johnson's The Forbidden Room was presented with the TFCA's 2015 Rogers Best Canadian Film Award on Tuesday evening, an honour which includes a $100,000 cash prize.
The mash-up of Golden Age adventure serials beat out Philippe Falardeau's My Internship in Canada and Andrew Cividino's Sleeping Giant. As runners-up for the award, both Falardeau and Cividino received a $5,000 prize. This is the second time Maddin has won the Best Canadian Film Award from the TFCA, with his memoir My Winnipeg picking up the prize in 2008.
The night also saw TIFF CEO Piers Handling present Deepa Mehta with the Technicolor Clyde Gilmour Award. The prize, which the TFCA announced she had won in November, is meant to recognize a Canadian industry figure who has helped to enrich both the understanding and appreciation of film in Canada.
"To say I'm gobsmacked is an understatement," said Mehta when accepting the award while the audience gave her a standing ovation. The award also includes $50,000 in services from Technicolor the recipient can give to a filmmaker of their choosing, which Mehta presented to documentarian Nisha Pahuja.
Upstart Canadian director Matt Johnson – who took home the Jay Scott emerging artist prize in 2013 – proved to be the unexpected roaster of the night, riffing on his recent comments to the Globe and Mail that "A lot of people just need to die of old age for the [film] system to change."
This year's Jay Scott Prize for an emerging artist (now title-sponsored by Stella Artois) which was awarded to Quebecois director Anne Emond. The award includes a $5,000 cash prize. Vladimir Paskaljevic of York University was also presented with the Manulife Student Film Award for his drama Abscence is Present, which includes a $5,000 cash prize.