Cream Productions preps Martin Luther King doc for AHC
Justice For MLK: The Hunt for James Earl Ray is the first of two projects Cream is producing for American Heroes Channel.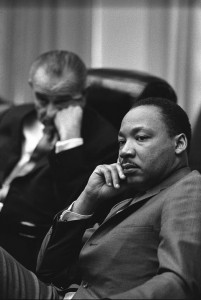 Cream Productions has completed work on its first project for American Heroes Channel (AHC), a two-hour documentary special on Martin Luther King.
Set to air one day ahead of this year's Martin Luther King, Jr. Day, on Jan. 17, Justice For MLK: The Hunt For James Earl Ray is produced by Toronto-based Cream in association with Absinthe Film Entertainment. It details the final days of King's life as well as the 65-day manhunt following his assassination in 1968.
The doc's approximately USD $1 million budget was financed via AHC, Historia and Canadian tax credits. Discovery Communications holds the distribution rights in the U.S., U.K., South East Europe, Pacific Rim, Benelux and central and south Asia, with Proper Rights handling distribution in English Canada and other international territories not being handled by Discovery. Historia picked up the French rights to the doc and there is currently no English-Canadian broadcaster attached to the project.
Discussions about the possibility of making the doc began more than a year ago between Cream president Kate Harrison and U.K. writer/producer/director Richard Curson Smith. Harrison later pitched the idea to Investigation Discovery's Winona Meringolo (who oversees AHC's programming slate) after learning AHC was looking to expand its doc slate.
Greenlit by AHC in April 2015, the majority of the interviews for Justice For MLK were conducted in Memphis, Tennessee, while all post-production, writing, and shooting to recreate scenes of assassin Earl Ray on the run (of which there is no footage) took place in Toronto and Hamilton, Ontario.
The two-hour doc brings together archival footage and new interviews with people close to both King and Earl Ray, including Georgie Davis, a member of King's inner circle who was present in the Lorraine Hotel on the night of his murder, Vince Hughes, the dispatcher who took the call on the day of the shooting, as well as Earl Ray's brother and lawyer.
Cream Productions is also currently in production on a 6 x 60-minute documentary series for AHC based on the American Civil War. A release date has not been set for The Civil War Chronicles, which will be distributed by Proper Rights.
Most recently the prodco signed a multi-year distribution output deal with Blue Ant Media's distribution arm, Blue Ant International. Cream's factual portfolio includes Wild Things with Dominic Monaghan and The Weapon Hunter. Rogers Media recently announced the third season of Wild Things with Dominic Monaghan will be the broadcasters first 4K series, to air on Rogers channel 999 starting Jan. 6.
Executive producers on Justice For MLK are Harrison, Richard Curson Smith and David Brady for Cream Productions, with Jeanie Vink and Sara Kozak exec producing for AHC.