Deals: CTV, PNP, Super Channel, Valnet
Super Channel has acquired J.J. Abrams-produced series 11.22.63 (pictured), starring Sarah Gadon, plus more deals.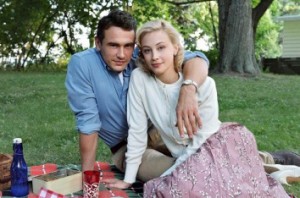 Super Channel
Super Channel has acquired the J.J. Abrams-produced series 11.22.63, which will air in eight installments on beginning Feb. 17 at 9 p.m. The series, which is executive produced by Stephen King, Bridget Carpenter and Abrams, is based on a King novel about the day president John F. Kennedy was assassinated. The series was filmed primarily in Toronto and Dallas, Texas and stars James Franco and Canadian Sarah Gadon. 11.22.63 follows Jake (played by Franco) as he ventures back in time to try and prevent Kennedy's assassination.  The series is distributed globally by Warner Bros. International Television Distribution and will debut on Feb. 15 on Hulu in the U.S.
PNP
Vancouver-based Pacific Northwest Pictures has acquired all Canadian rights to dramatic feature The Girl in the Book. Produced by Varient Pictures in association with Busted Buggy Entertainment, the film will be released theatrically with an exclusive engagement at Globe Cinema in Calgary on Jan. 8 and Regina RPL Film Theatre on Jan. 18. The feature, both written and directed by Marya Cohn, becomes available the following day in Canada via iTunes and other major VOD services. Earlier this month the film was released in the U.S. through L.A.-based prodco Myriad Pictures and Freestyle Releasing. The Girl in the Book  stars Emily VanCamp (Captain America: The Winter Soldier) and Michael Nyqvist (The Girl with the Dragon Tattoo) and is executive produced by Daniel Cunningham and Courtney Daniels. 

CTV
CTV has picked up two-hour cooking charity special MasterChef Celebrity Showdown. The show, produced by One Potato Two Potato and Endemol Shine North America, is set to air at 8 p.m. Jan. 18 on CTV and CTV GO. The show sees judges Gordon Ramsay and pastry chef Christina Tosi invite celebrities into the MasterChef kitchen, and also pits previous MasterChef winners against competitors from season four of MasterChef Junior. The series is executive produced by Elisabeth Murdoch, Eden Gaha, Robin Ashbrook, Gordon Ramsay, Adeline Ramage Rooney, Patricia Llewellyn and Ben Adler.

Valnet Inc.
Quebec-based Valnet has signed a content licensing agreement with London-based producer and distributor Barcroft Media. The deal will allow Valnet, which specializes in developing internet-based businesses and brands, to use Barcroft's factual imagery and video content across its various channels, which include TheRichest.com, ScreenRant.com and TheSportster.com.